St. Joe drops season opener to Traverse City Central at Ferris State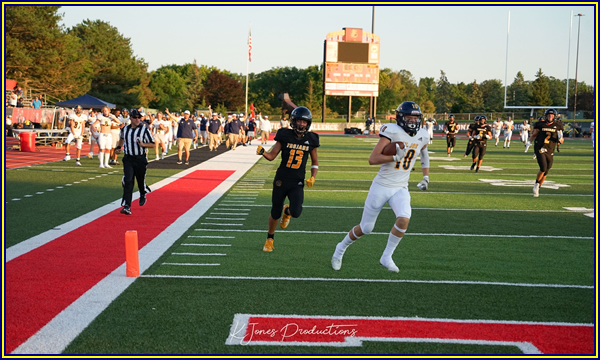 BIG RAPIDS– Six years to the day of the last time St. Joe opened the season at a collegiate venue, the Bears faced defending Division 2 runner up Traverse City Central at the home of the NCAA Division 2 National Champion Ferris State Bulldogs.
The all day event featured the varsity game along with the Freshman and JV games also starting the season at Top Taggart Field.
With the Trojans taking the 9th grade contest, and the Bears winning the Junior Varsity game, it was up to the varsity game to see which school could win the day.
Traverse City Central took the varsity game by a 49-28 score.
St. Joe kicked off to begin the game, only to see Traverse City Central methodically march down the field in an almost 6 minute drive to take a 7-0 lead.
St. Joe only needed :16 seconds to respond as Hunter Lange returned the kickoff for a 72 yard touchdown, tying the game at 7-7 after Max Taylor's extra point.
Along long sustained drive beat Central resulted in another touchdown giving them a 14-7 lead when St. Joe's offense finally took the field with 1:46 left in the first quarter.
St. Joe went 3 and out and punted away, and the Trojans again found the endzone and took a 21-7 lead.
St. Joe's offense got going on the next drive, going 80 yards in just 5 plays, capped off by a 69 yard run by Trey McGinnis to cut the Central lead to 21-13.
However, Traverse City Central again kept driving and scored again to take a 28-13 lead with 3:43 left in the half.
St. Joe's quick strike offense did just that, they struck again on a one play 80 yard drive at senior QB Matt Lanier threw a pass down the right hash mark and caught wide out Bobby Nate in stride for an 80 yard touchdown to cut the lead to 28-20.
Traverse City Central could also play the quick strike game and need two plays to make it 35-20 before halftime.
The Trojans scored on two more drives in the third quarter to take a 49-20 lead into the final 12 minutes. Joron Brown found the endzone from 3 yards out and also added the two point conversion to provide the final score of 49-28.
Running back Trey McGinnis had 99 yards rushing on 9 carries and one touchdown. Max Kesterke had 10 tackles on the night to lead the Bears defense.
St. Joe falls to 0-1 on the season and will face defending Division 4 runner up Hudsonville Unity Christian in the Bears home opener at Steve Upton Field at Dickinson Stadium on Thursday Night. The Crusaders enter the game also with an 0-1 record.