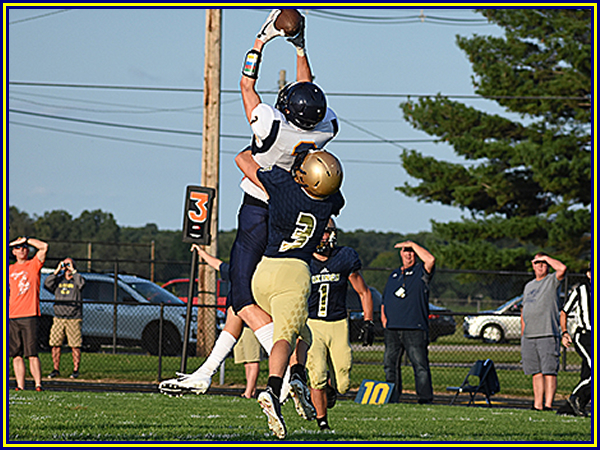 (Niles) – In the first game of the season, the St. Joseph defense was gashed for 389 yards of offense against Battle Creek Central.  After a week of practice and adjustments the Bears defense sealed up the holes and kept Niles bottled up the entire game.
St. Joseph scored two first quarter touchdowns on the way to a 24-0 win at Niles to even up their record at 1-1.
The Bears didn't take long to score the game's first points.  St. Joe went on a 5 play 69 yard drive that only took 1:12 off the clock that ended on a 35 yard touchdown run from Derek Holowasko. 
St. Joe's defense would set up another score midway through the second quarter when Konnor LaVanway intercepted a pass from Vikings quarterback Brayden Lake at the Niles 28 yard line.  LaVanway brought it down to the 15 yard line and 3 plays later, Bears quarterback Nathan Long threw a 12 yard touchdown pass to sophomore Griffin Shinrock, who made a spectacular catch while being closely guarded.  The Bears took a 14-0 lead.
Neither team scored in the second quarter but over the first half, the Bears defense held Niles to a total of 50 yards, including four 3-and-outs.
After the Vikings went 3-and-out to start the second half. St. Joe got on the scoreboard again going on a 10 play 66 yard drive, capped off by a 2 yard touchdown run from Brent Huff to put the Bears ahead 21-0.
The Bears defense would continue to keep the Vikings in reverse the rest of the third quarter, totaling minus 1 yard of offense.
St. Joe would intercept Lake again early in the 4th quarter to provide 3 more St. Joe points.  Nick Borre's interception set up the offense at the 25 yard line, after a short loss.  Bears kicker Antonio Buhrfiend made a career long 45 yard field goal to put St. Joe up 24-0.  Buhrfiend was also 4 for 4 on PAT's on the night.
St. Joe completed the 24-0 win over Niles, marking the third straight game that St. Joseph has shutout Niles.  Combined with the 47-0 win at Dickinson Stadium in 2017, and the 30-0 shutout win at Niles in 2016, Niles has gone 128:08 of gametime without scoring against St. Joseph. 
St. Joseph improves to 1-1 and 1-0 in the SMAC West Division and returns home to Steve Upton Field at Dickinson Stadium next Friday to face the 2-0 Mattawan Wildcats.