St. Joe improves to 2-0 win 55-7 win over Niles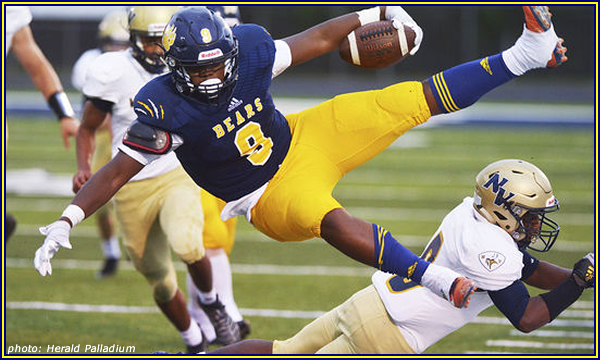 (St. Joseph) – The 100th meeting between St. Joseph and Niles wasn't close for very long.
St. Joe jumped out to a 20-0 lead after the first quarter and went on to roll over the visiting Niles Vikings 55-7 in the Bears home opener at Steve Upton Field at Dickinson Stadium last week.
After receiving the opening kickoff, it didn't take long for the Bears to put up the first points of the game when junior quarterback Troy Pratley completed a 42 yard touchdown pass to Luke Hedstrom just 1:12 into the game, Brent Huff added the point after and St. Joe quickly grabbed the 7-0 lead.
On the ensuing kickoff, the squib kick was taken by one of the Niles up man, but after a few steps fumbled. St. Joe pounced on the loose ball and was set up back on offense inside Niles territory.
Eight plays and 2:54 later, Pratley had his second touchdown pass of the night, this a 7 yard completion to Griffin Shinrock. Another Huff PAT and the lead stood at 14-0 before the Niles offense had run a single play on offense.
Later in the quarter, Niles would be forced to punt and the long punt pinned St. Joe back to the 14 yard line. St. Joe drove all 86 yard in just 7 plays, when Jeremiah Sterling scored on a 47 yard run with :13 seconds left in the quarter, but the PAT hit off the upright, but St. Joe still had a 20-0 lead.
After another Niles 3 and out, St. Joe went on a short scoring drive when Pratley ran himself for a 5 yard score with 10 minutes left in the 2nd quarter and the Bears now had a 27-0 lead.
Niles would fumble on their next drive and St. Joe again took advantage of the Vikings miscue as Pratley threw an 18 yard touchdown pass to Briggs Mosher to take a 34-0 lead, and that was how the half ended.
Niles would get the ball to start the second half, but an errant snap on a punt forced Vikings kicker Ryan Franco to scramble to recover the ball and avoid a defensive safety, but instead was only able to make it to the 4 yard line. St. Joe would need one play to go up 41-0 on a TD pass to Nick Borre.
With the game out of reach for Niles, St. Joe put in the second team offense and Andy Blomgren led the Bears on a 10 play 55 yard touchdown drive when he ran for a 19 yard scramble, Manuel Villalobos came in to kick the point after and St. Joe took a 48-0 lead.
Niles would catch a break when an errant snap on a St. Joe punt nearly resulted in a defensive score, but the punt by Huff was short, setting the Vikings up at the St. Joe 38 yard line. Two plays later, QB Brayden Lake ran for a 3 yard TD to put Niles on the board at 48-7. The score by Niles was the first time since 2015 that Niles scored against St. Joe. Niles went 192:25 of gametime without scoring a point against St. Joe.
St. Joe would respond with a 13 play 76 yard drive, and Dylan Kole scored on a 9 yard touchdown, a Villalobos PAT and the score stood at 55-7.
For the game, St. Joseph outgained Niles 462-162, and the Bears defense held Niles to negative 5 yards in rushing. St. Joe quarterback Troy Pratley was 13-20 for 157 yards and 4 touchdowns, and he ran for another. Jeremiah Sterling had 99 yards rushing.
On defense Korbin Kalin had 6 tackles, including 2 sacks and 4 tackles for loss. Garrett Kiser and Malik Immoos had interceptions.
With the win, St. Joe improves to 2-0 on the season and 1-0 in the SMAC West, while Niles falls to 0-2 and 0-1 in the division. The Bears will be on the road next at Mattawan (1-1).