Lakeshore edges St. Joe in overtime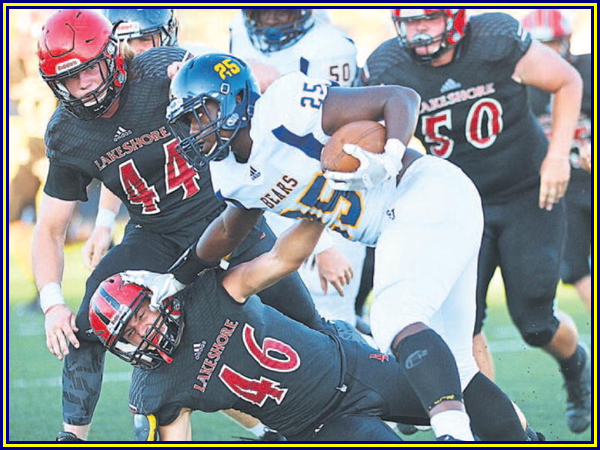 (Stevensville) – Since St. Joseph and Lakeshore began playing each other in 1961, there have been some games that have been close, and some that haven't been so close.  But the 2018 game was as close as you could get after 4 quarters of play.
For the first time in the history of the series, the annual St. Joseph vs. Lakeshore game needed overtime to decide. 
Lakeshore hit a field goal by Kyle Wojahn in overtime for a 13-10 win.
The game was scoreless after the first quarter, the first five drives of the game were all three and outs.
Lakeshore broke the scoreless deadlock on their first possession of the 2nd quarter.  Lakeshore drove down to the St. Joe 10 yard line but couldn't find the endzone.  Wojahn made a 27 yard field goal with 9:26 left in the 2nd quarter to put Lakeshore up 3-0.
The first half would end with St. Joe going three and out 2 drives and punting on another.  Lakeshore would also punt after 3 drives of 5 plays or less.
Lakeshore would punt on their first drive of the 2nd half, but a bad snap cause Wojahn to fall on the ball at the Lakeshore 10 yard line.  
However a bad snap for St. Joe at the Lakeshore 4 resulted in a huge loss and Antonio Buhrfiend would be called on for a field goal attempt.  The 38-yard kick was good and St. Joe and Lakeshore were tied 3-3. 
Lakeshore would fumble on their next drive at their 31 yard line, which St. Joe quickly turned into a score as Nathan Long threw a 31-yard touchdown pass to Devon Frenchko, which gave St. Joe a 10-3 lead with 6:22 left in the third.
Lakeshore responded on their next drive which extended into the 4th quarter, going on a 17 play 89 yard drive that consumed 9:07 and included converting on a 4th down.  QB Jake Trivedi threw a 6 yard pass to Treyjen Keim for a touchdown and tied the game at 10-10 with 9:19 left in the 4th quarter.
Later in the quarter, after St. Joe forced a Lakeshore punt, the Lancer kick was downed at the 1 yard line.  Sensing a defensive score, Lakeshore was unable to get the lead on defense and thanks to a 59 yard punt from Buhrfiend deep in his endzone, the Lancers were forced to try to work down the field again.
On a 4th down at the St. Joe 28 yard line. Lakeshore would try a long field goal, but the 46 yarder was no good short and left.  St. Joe would then run out the final 38 seconds of regulation and go to overtime.
Lakeshore won the coin flip and elected to play defense first.  But St. Joe took an illegal substitution penalty before the first down play, Pushing the Bears back to the 15 yard line,  Long was stopped for no gain on first down, a one yard loss on 2nd down and a loss of 8 yard on third down pushed St. Joe back to the 25 yard line.  Buhrfiend would miss a 42 yard field goal attempt to end the Bears possession.    Lakeshore wasted no time and decided to kick on 1st down and won the game on Wojahn's second field goal of the game.
St. Joe falls to 2-2 and is back on the road next week to face Kalamazoo Loy Norrix (1-3)