St. Joe beats Lakeview 35-14 for third straight win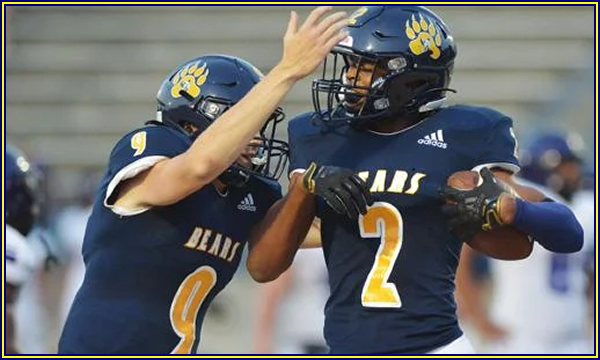 ST. JOSEPH –  The bus ride between Battle Creek Lakeview is  on of the longest in the league, and for the past four seasons, the road trip home has been a happy one…. Until this year. 
St. Joe avenged last year's loss to the Spartans at Dickinson Stadium with a 35-14 win on Friday night.  It's the first time the home team has won in the last 4 meetings. 
The game started slowly for both teams as Lakeview got the first chance to score, but missed a 44 yard field goal wide left by Mathew Bacik with 1:05 left in the first quarter.
But the Bears were able to get break the scoreless drought just 8 seconds later as Matthew Lanier threw an 80 yard touchdown pass to Bobby Nate for a 7-0 lead.
The St. Joe defense again was able to put a stop to a long time consuming Lakeview drive.    The Bears then worked down the field again on an 11 play 77 yard drive, capped off by another Lanier touchdown pass, this to Riley Biggins from 8 yards out, and the Bear lead expanded to 14-0.
Dylan Stevens would intercept Lakeview quarterback Jacob Kucharczyk with :51 seconds left in the first half.  St. Joe would drive the ball down in 5 plays, ending on a 31 yard touchdown run from Trey McGinnis with :18 seconds left before halftime, to make it 21-0.
St. Joe would make it 28-0 on the opening drive of the second half when McGinnis scored on a 2-yard run, ending a 12-play, 80-yard drive.  Neither team would score for the rest of the quarter, but Lakeivew was driving.
That Lakeview drive rusulted in their 1st touchdown of the game, on a 1 yard run by Jacob Kucharczyk to cut the lead to 28-7.
After both teams came up with a defensive stop, St. Joe would again score quickly and on a one play drive.  Trey McGinnins scored his third touchdown of the game on a 70 yard run, giving the Bears a 35-7 lead.
Lakeview would round out the scoring on a 3-yard run with 3:19 left in the game byu Kory Lenneman to provide the final score of 35-17.
On the night McGinnis carried the ball 16 times for 206 yards and three touchdowns.  Quarterback Matt Lanier was 5 of 11 for 120 yards and a pair of touchdowns.
Max Taylor was a perfect 5 for 5 on his extra points, and of his 6 kickoffs, 5 of them were for touchbacks, the was that wasn't was a squib kick that was downed by a Lakeview upman.
On the night, St. Joe gained 333 of their 453 yards on the ground.  Lakeview had 199 yards rushing and just 86 passing for a total of 285.
Elijah Turner led the Bears defensive effort with 14 tackles, including 2 tackles for loss, Joron Brown had 10 tackles, as did Dylan Stevens, who also added an interception.