Bears overpower Loy Norrix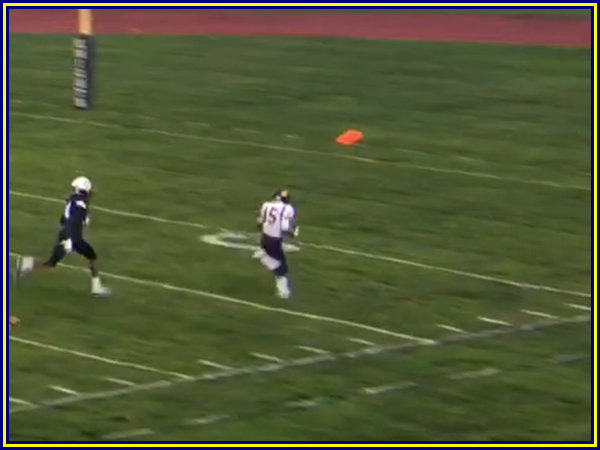 (Kalamazoo) – Since the formation of the Big 16 in 2001, no two teams in the conference have faced each other the fewest amount of times as St. Joe and Loy Norrix.    The Bears and Knights have only met 4 times since 2002.  St. Joe has won all four of those games and made it 5 straight with a 55-6 win over Loy Norrix.
St. Joe started the scoring early, after forcing a punt. St. Joe took 48 seconds and just two plays to grab the lead when Andy Blomgren threw a 49-yard touchdown pass to Devon Frenchko.
Blomgren was making his first start of the season with regular starting quarterback Nathan Long recovering from an injury. 
St. Joe would score 10 seconds later when Norrix quarterback Romario Williams made an errant pitch and it was picked up by Art Herndon for a 16 yard fumble return touchdown, giving the Bears a 14-0 lead.
St. Joe made it 21-0 with 4:03 left in the first quarter when Frenchko returned a Loy Norrix punt for a 56 yard touchdown.
Following a Derek Holowasko interception, Blomgren threw his second touchdown pass of the game to Eric White from 11 yards out and the Bears had a 28-0 lead after the first quarter.
In the second quarter, Loy Norrix turned the ball over on downs, giving St. Joe a short field once again. In three plays, St. Joe found the goal line again on an 11 yard run from Brent Huff and it was 35-0.
St. Joe's defense bent but didn't break on the following Norrix drive as the Knights made it down to the Bears 15 yard line.  But Herndon intercepted Williams in the endzone, thwarting the home team.
Another Holowasko interception gave the Bears a short field, and a 1 play drive gave St. Joe a 42-0 lead when Blomgren threw his third TD pass of the game and second to Frenchko from 20 yards out with 11 seconds left in the 1st half.
With the running clock in place in the second half the game moved quickly.  Jackson Modigel and Drake Collins added rushing touchdowns in the 3rd and 4th quarter. 
Norrix scored on a 73 yard passing play to Darrell Mabon which cut the lead to 49-6 before Collins touchdown made it 55-6.
Antonio Buhrfiend was 4 for 4 on PAT's while Brent Huff got into the game as the place kicker made 1 of 2.   
The 55-6 win was the largest margin of victory (49) for St. Joe in the series with Loy Norrix.  
The Bears improve to 3-2 and return home to face Portage Central in the annual Team Up Against Cancer game.