St. Joe wins SMAC Championship with 47-29 win at BCC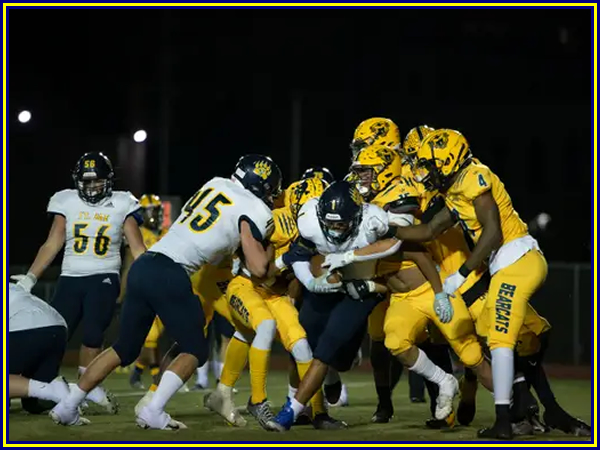 By Ben Sanders (HP Sports Editor)
BATTLE CREEK — St. Joseph keeps running over the opposition no matter who carries the football.
The Bears defeated Battle Creek Central 47-29 in Friday's showdown, rushing for 491 yards and pulling away in the second half to claim the Southwestern Michigan Athletic Conference championship.
St. Joseph (7-0 SMAC, 8-1) was without standout speedster Trey McGinnis due to injury and still had three running backs break the 100-yard mark. Joron Brown led the way with 35 carries for 202 yards and four touchdowns, Hudson Lange added 112 yards and Thomas Moore had 106. Quarterback Matthew Lanier also added 69 yards on the ground.
"Trey is a really great football player that we certainly miss," St. Joseph coach Andrew Pratley said. "You can't replicate his speed anywhere else. I was really proud of Thomas stepping up, and then when Thomas had to go out, Hudson came in, just another fireplug. We're just blessed with talented kids who run hard and a great offensive line."
Brown came through in the crucial moments, scoring three of his four touchdowns on fourth-down plays, and intercepting a pass on defense. His already-heavy workload as a two-way starter has only increased with McGinnis out.
"Obviously Trey's a great player," Brown said. "With him being out I've got to carry the ball more. We've had our backups on defense stepping up so I can get some breaks on defense. I had 30 carries last week, it's a lot, so I've just got to stay healthy."
Battle Creek Central (6-1, 7-2) kept pace in the first half with its potent passing attack. Devoine Newton set a new single-season school record for passing yardage as he led the Bearcats on three first-half touchdown drives, and the score was tied 21-21 at the break.
The third quarter was all St. Joseph, however. After Brown scored his third touchdown of the night to make it 27-21, the Bears got the ball right back as Lange picked off a tipped pass.
"Defensively we made some adjustments, and that turnover really helped starting off the second half," Pratley said. "We got up two scores, and getting that ground game going like that, it's tough to be down two scores since you don't know how much you're going to get the ball."
Lange kept the momentum rolling, coming in at running back, scoring on an 18-yard touchdown run and adding the two-point conversion to extend the lead to 35-21.
"We haven't had to use him much offensively, just trying to keep him fresh on defense," Pratley said. "Tonight we had him go, and he's always ready. He's just a great leader, a great kid and he was ready for anything. He ran hard and had a couple really nice runs."
The Bears' offensive line seemed to wear down the Bearcats as the game went on, and the lead grew to as large as 47-21 in the fourth quarter.
"They're great," Brown said of the offensive line. "We keep them well-fed, keep them happy. Happy o-line, happy running backs. They're some great guys, they work hard."
Newton finished with 272 yards passing and two touchdowns, but also three interceptions, including a fourth-down pick by Bear lineman Eian Nelson. Larenz Smith had four catches for 105 yards and a score.
The win not only earned St. Joseph a conference championship, but also a hefty haul of playoff points that should keep the Bears playing on their home field for the early rounds of the postseason.
"We'll have three home games if we can keep winning games," Pratley said. "Obviously if you don't win, you don't play. It's going to be a rough road, there's a lot of really good teams in Division 3. Nothing's going to come easy, but we're excited to have the opportunity."