Bears roll to 49-10 victory over East Gran Rapids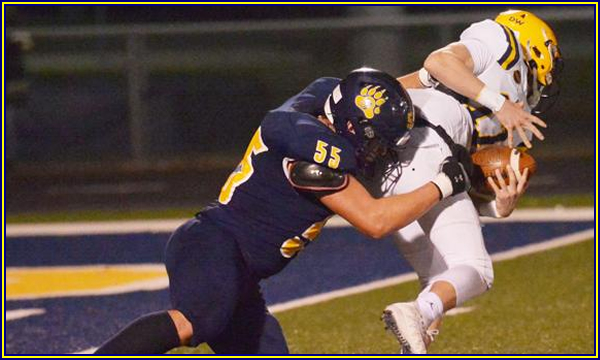 Ben Sanders - HP Sports Editor

ST. JOSEPH — St. Joseph gave up a 52-yard run on the first play from scrimmage in Friday's Division 3 district football semifinal against East Grand Rapids.
That was about all that went wrong for the Bears.
St. Joseph thoroughly dominated the Pioneers on its way to a 49-10 victory, building a 42-point lead in the first half and substituting liberally in the second.
"A great effort by our kids just to play a complete game in all three facets in that first half," St. Joseph coach Andrew Pratley said.
St. Joseph (9-1) will host Zeeland West (9-1) at 7 p.m. next Friday in a district championship showdown. The Dux defeated Lowell 36-28 in their semifinal.
The victory was St. Joseph's first over East Grand Rapids (4-6) in three tries. The two losses came deep in the postseason in 2007 and 2009, when the Pioneers were in the midst of a run of five straight state titles.
Ian MacKeigan got East Grand Rapids off to a good start with his 52-yard scamper, but four plays later was stopped short on a fourth-and-2 run. By the time the Pioneers made another first down, they were down by six touchdowns.
"Our defense really set the tone after that first play to get that stop and get the ball back," Pratley said.
The Bears went right to a trick play, as running back Joron Brown tossed a 60-yard touchdown to a wide-open Bobby Nate on their second play from scrimmage.
"We saw some things on film we thought we could take advantage of early, and got that halfback pass right off the bat," Pratley said. "They did a lot of stuff we thought they were going to do, we got up big early, and then were able to get kids in, stay healthy and get out of here."
That was the first of many different ways Brown made an impact. On offense, he added two rushing touchdowns and a receiving touchdown to his passing score. Defensively he forced two turnovers — the first an interception, the second a fumble recovery as he simply ripped the ball away from MacKeigan.
"Best player in the state without a (scholarship) offer," Pratley said. "I'll keep saying it until somebody does one. He does everything. It was a great team effort, but he definitely stood out as making plays all over the place."
Brown's first rushing score, from three yards out, made it 14-0, and quarterback Matthew Lanier went in untouched from 18 yards away on an option run to make it 21-0 at the end of the first quarter.
Brown appeared to be stopped on his second touchdown run, but popped out of the pile for a 10-yard score. Hudson Lange added an eight-yard TD run later in the quarter, and when Lanier found Brown open for a 28-yard touchdown pass, the Bears were up 42-0.
East Grand Rapids ran for 226 yards on the night, led by Drew Caswell with 108, but much of it came against St. Joseph reserves. Lange led the Bears defense with eight tackles, Elijah Turner added six, and Jerry Capaccio and Max Golladay each had sacks.
St. Joseph opened last season's playoffs with a thrilling 29-26 upset of Zeeland West that sparked a run to the state semifinals.
"They're a great football program obviously, and it was a great high school football game last year," Pratley said. "We earned the right to have them down here, and we expect another great battle. We're excited for the opportunity to play for a district championship at home."
Trey McGinnis starred for the Bears that night, scoring the winning touchdown with 12 seconds to play. McGinnis has missed the last two weeks with an arm injury, and whether he could return for next week's game is uncertain.
"You never know," Pratley said with a smile.