---
Around the SMAC - News Updates
2022 Offseason
SMAC Update - July 30, 2022
Did you see our new helmets

One of the most iconic football helmets in SMAC is getting an upgrade. The legendary Maize Bear Paw on the Blue helmet will still be there, but the bear paw now will bigger and include the St. Joseph logo. The players number will again be on the helmets as it'll now be on the front crown of the helmet.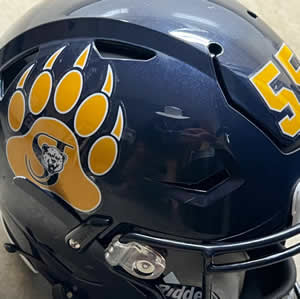 MHSAA Playoff Divisions announced for 2022 season

The MHSAA has determined the divisions that teams will be playing in during the 2022 season, which will determine the top 64 teams in each division that will make up the playoff field. Here are the SMAC Divisions
| School | Division | Enrollment |
| --- | --- | --- |
| Battle Creek Central | 2 | 1,223 |
| Battle Creek Lakeview | 2 | 1,339 |
| Gull Lake | 3 | 935 |
| Kalamazoo Central | 1 | 1,799 |
| Kalamazoo Loy Norrix | 1 | 1.743 |
| Lakeshore | 3 | 860 |
| Mattawan | 2 | 1,173 |
| Portage Central | 2 | 1,386 |
| Portage Northern | 2 | 1,271 |
| St. Joseph | 3 | 1,001 |
The SMAC is well represented in the Division 2 playoffs with half of the 10 SMAC schools being assigned to that Division. The SMAC's two largest schools Kalamazoo Central, and Loy Norrix are in Division 1. While the Division that St. Joseph occupies is once again Division 3, along with fellow SMAC schools Lakeshore and Gull Lake. Other area schoos in Divison 3 include, Plainwell (829), Harper Creek (863), Sturgis (920), Coldwater (960), Holland (961), Zeeland East (971), and Zeeland West (1,058).
Former SMAC members Niles (784) and Marshall (766) are Division 4, Division 5 Dowagiac (536), Benton Harbor (542).
New MHSAA Website coming

The MHSAA website is getting a much needed facelift, a new design off the official MHSAA website at www.mhsaa.com will be launched on Monday August 1. According to a post on the main page, "The goals for the new site are three-fold: 1) continue to tell the story of school sports, 2) make it easier for fans to find sport and Finals information, and 3) have a more user-friendly mobile experience. We also wanted to make sure there were very few changes in the way administrators and coaches use their current MyMHSAA tools."
Former SMAC member Niles upgrading Viking Stadium to include turf

While details of the project are difficult, if not impossible to find. A post by Leader Publications Sports Editor Scott Nowak shows construction crews at Viking Stadium in Niles, tearing up the grass surface of the nearly 70 year old stadium. A story this week is promise by Novak at www.leaderpub.com with hopefully more details on the project. It would be the 5th school in Berrien County to have an artificial playing surface. In addition to SMAC schools St. Joe and Lakeshore. The Lakeland's Berrien Springs, and New Buffalo from the SW Michigan 8 Man League are turf field. New Buffalo is called the Red Arrow Raiders for football as they are a Co-Op team with River Valley. Our Lady of the Lake (formerly Lake Michigan Catholic), is also an 8-man co-op team with Michigan Lutheran and Countryside Academy, they play their games at the Lakeshore rocket football field, which is also artificial turf. While Niles is no longer in the SMAC, we still wish them well as they along with St. Joe were founding members of the SMAC.

SMAC Update - July 16, 2022


Other SMAC Stadiums get some work.


Summer is constuction season on the roads and in the stadiums of the SMAC in preparation for the upcoming season. In addition to the work being done at Dickinson, two other SMAC schools have had a few facelifts done or are in the process. The first is down the street at Lakeshore, where the have replaced their scorboard at Al Stockman Stadium. Like St. Joe and Mattawan, they have installed a Daktronics scoreboard with a video board installed. The video board is 560 pixels wide by 308 pixels high. It is on top of a modular regular Daktronics football scorebaord, The numbers are all white LED's. Not football related but Lakeshore has also installed video boards in their gymnasium. Photos can be seen on their twitter page.

Battle Creek Lakeview's Spartan Memorial Stadium is having a lot more work done. Voters in the Lakeview School District passed a bond in 2021 for upgrades to the football stadium and track. The second major rennovation to the stadium since the Spartans rejoined the SMAC in 2001. New stands were constructed in 2005, which actually reversed the stands. But in 2022, Spartan Memorial Stadium will have a new artificial turf field. Lakeview is also installing a new scoreboard. And drawings provided by Lakeview show that it is an exact copy of what Lakeshore has installed. (LINK) It appears to be another Daktronics scoreboard. Which would make of the 10 current SMAC Schools (Loy Norrix and Gull Lake included), seven would be by Daktronics. It would also be the be the 6th with a video screen of some kind. The renderings show that the field is lined for football, soccer and lacrosse. Again including Gull Lake and Loy Norrix in the count, the changeover to artificial turf means that only 3 schools in the SMAC still have grass football fields. Mattawan, Kalamazoo Central, Kalamazoo Loy Norrix. For the upcoming season, St. Joe will only play 1 game on natual grass.
Gull Lake coming back for football???

Two SMAC schools currently do not play football in the conference, those are Kalamazoo Loy Norrix and Gull Lake, however one of them could come back in a few years. Gull Lake, stepped out of the league after the 2020 football season to play an independant schedule as the Blue Devils sought to build back their struggling football team. Reports say that the Blue Devils might return for the 2024 season. The SMAC has a new schedule format starting with this upcoming 2022 season and after the two year cycle ends, Gull Lake is considering a return to conference play. That would cause a bit of a problem for SMAC schools who would have to find a non conference game. There's no word on if Loy Norrix is also considering a return, but the Knights left after the 2019 season after back to back 1-8 seasons.
Benton Harbor has a new conference

Even though Benton Harbor left the SMAC after the 2015 season, we're happy to see the Tigers finally find an athletic conference to compete in. The Tigers will be joining up with Berrien Springs, Brandywine and former SMAC members Buchanan and Dowagiac and forming a new Lakeland Conference. Originally named the Big 8 Conference and eventually the Blossomland Conference, the original Lakeland Conference folded after the 2013-14 school year. Current SMAC member Lakeshore was part of the Lakeland since 1958. When Benton Harbor faces Berrien Springs on September 23, it'll be the first Tigers conference football game since at 29-23 win over Portage Northern on October 23, 2015.
St. Joe Youth Sports Foundation gets approval from SJ Township planning commission

This one really hits home for us and we would love to see this project continue to move forward. The St. Joseph Youth Sports Foundation has the approval from the St. Joseph Township planning commission for the plan for a new youth sports complex to be located along Maiden Lane in the township across from the Spectrum Health Lakeland health park. The park would include a game size football field, a football practice field, 3 flag football field, two baseball and two softball fields, as well as batting cages, locker rooms, medical rooms, restrooms, a concession stand, as well as a splash pad, playground, and a walking trail. The full plan has not yet been approved by the full St. Joseph township board. Currently the Foundation has raised $1 Million of the $5 million needed for the proposal. You can get more informatin and donate at http://sjyouthsports.com/
SMAC Update - June 18, 2022
Dickinson Stadium gettiing some minor work

It's been a relatively quiet offseason in terms of the SMAC football in general, Dickinson Stadium here in St. Joe is getting some minor repairs done and a few upgrades. The Board of Education has approved a bid to have some minor repairs as well as waterproofing done around the stadium. Meanwhile the football teams' locker room will be getting some minor renovation work done as well.
Battle Creek Central football gets donation of $45,000 and new helmets from the Detroit Lions

Battle Creek Central was one of the first schools in the SMAC (then Big 16) to get an artifical turf field. It was done via a donation, but like many other things, whle the field was great, the equipment was aging. The Detroit Lions, the United Dairy Institute of Michigan, and Riddell made the donation. The team was informed of the donatioin via a Zoom call with Detroit Lions OL Frank Ragnow. The Lions are donating $43,000 as part of the Touchdown in your Town Program, the UDIM is donating $2,000 of chocolate milk, and Riddell is making the donation of new helmets and shoulder pads.
Former Mattawan football coach posthumously inducted into MHSFCA Hall of Fame.

Dave Lawrence began his coaching career in 1979. Of his five stops along the way he was a coach at Mattawan. Lawrence passed away in 2020, but the Michigan High School Football Coaches Association will be inducting him into their hall of fame this year.
New SMAC schedule format

With Gull Lake and Loy Norrix continued abscence from the SMAC for football, the league has realigned itself again to allow a more even and managable schedule format, which ends the scheduling partnership between the SMAC and the CAAC-Blue. The first two weeks of the season will be the two non conference games, then the last 7 games will be the SMAC schedule.

St. Joseph
8/26 vs. Traverse City Central (at FSU)
9/1 Hudsonville Unity Christian
Lakeshore
8/25 Zeeland West
9/1 at Kalamazoo United
Mattawan
8/25 Lowell
9/1 at Marshall
Portage Central
8/25 at East Lansing
9/1 GR Forest Hills Central
Battle Creek Lakeview
8/25 Harper Creek
9/1 at River Rouge
Portage Northern
8/25 Vicksburg
9/1 at Holland West Ottawa
Battle Creek Central
8/26 Byron Center
9/1 at Harper Creek
Kalamazoo Central
8/25 at Mount Pleasant
9/1 at Kalamazoo Loy Norrix

2021 Season
SMAC Update - October 31, 2021
Legendary Portage Central coach Bob Knight passes

A SMAC coaching legend has passed away, longtime Portage Central head coach and then assistant Bob Knight has passed away. Knight directed the Mustangs program from 1971-2004, when St. Joe and Portage Central commonly were in contention for the then Big 8 Conference title. While at the same time developiing a friendship with legendary St. Joe coach Ike Muhlenkamp. Knight passed after a battle with terminal brain cancer. A petition drive was started by two former Portage Central players to rename the new McCamley Field in honor of Knight. The petition, at the time of this posting had just short of it's goal of 2500. That petition is here.
2021 Offseason
SMAC Update - July 20, 2021
St. Joseph radio broadcasts will have new voice this fall

It pains us to write this but we have to say goodbye to Phil McDonald as the voice of St. Joe football on the radio. Phil and WSJM have broadcast our games for the last 23 years along with St. Joe alumni Bret Witkowski. Phil is leaving WSJM after more than 35 years as he will become the Athletic Director at Lake Michigan Catholic, of which, he is an alum. WSJM will still be broadcasting St. Joe football this fall. The new voice for the games will be WSJM's Mike Arney, who began his broadcast career at Grand Valley State University, doing football while current Notre Dame coah Brian Kelly was with the Lakers. He's also broadcast games for the West Michigan Whitecaps baseball. Lansing Community College basketball, He was the sideline reporter for High School football in the Grand Rapids City League, GVSU basketball, and was the pregame, halftime, and postgame host for Michigan State Basketball for the Spartan Sports Network. He also did a few Benton Harbor football games with WSJM. Mike has played high school football while attending Comstock High School.
SMAC Update - June 11, 2021
Kalamazoo Central picks former Dowagiac coach to lead football program

Football fans in Southwest Michigan know the name of Mike Stanger very well. Stanger was head coach at Dowagiac from 2003-2018 taking over after the legendary coach Bernard Thomas. Stanger compiled a record of 101-61 in his 16 seasons at the helm of the Cheiftains, which puts him second all time behind Thomas. Stanger now has been hired as the head coach at Kalamazoo Central, ending his two years away from football. Stanger replaced Carleton Brewster who resigned to take a position at Wyoming HS near Grand Rapids. Kalamzoo Central is scheduled to open the 2021 season at home against Mount Pleasant, the Bears will travel to Thomas Stadium in week 4 on September 17th.
SMAC Schedule Update

Will Kalamazoo Loy Norrix already stepping aside for football last year and Gull Lake doing the same this this upcoming season, the 8 remaining football playing schools have been busy trying to fill out the holes in the schedule created by Norrix and Gull Lake. The Loy Norrix game will again be filled in by 7 members of the Capital Area Activities Conference - CAAC - Blue. With Battle Creek Lakeview at Kalamazoo Central having to fill that date themselves as the CAAC Blue has only 7 teams. The Gull Lake/Loy Norrix game was to be held on Week 7, but the two schools will still compete against each other in week 8 instead at Loy Norrix. The only school that has yet to fill in their open Gull Lake game is Battle Creek Lakeview who has so far no opponent in Week 3.
| SMAC Team | Loy Norrix replacment | Gull Lake replacement |
| --- | --- | --- |
| Battle Creek Central | Week 3 at Lansing Everett | Week 5 (Will play vs. Gull Lake) |
| Battle Creek Lakeview | Week 1 at Harper Creek | Week 3 - TBA |
| Kalamazoo Central | Week 2 (Will play at KLN) | Week 1 vs. Mount Pleasant |
| Lakeshore | Week 9 vs. DeWitt | Week 2 vs. Kalamazoo United |
| Mattawan | Week 6 vs. Grand Ledge | Week 4 vs. South Bend Riley |
| Portage Central | Week 4 at East Lansing | Week 9 at Harper Creek |
| Portage Central | Week 8 vs. Holt | Week 6 vs. River Rouge |
| St. Joseph | Week 5 vs. Okemos | Week 9 at Chelsea |
| Gull Lake/Loy Norrix | Week 7 | Week 7 |
SMAC Update - May 6, 2021
Portage Northern names new head coach

For the first time in 27 years, Portage Northern's head football coach will not be Pete Schermerhorn. We finally know who it is that will take his place, and the source is a rather surprising one. Portage Central, (yes Central) Defensive Coordinator Kurt Twichell moves up Westnedge Drive and becomes the new head coach of Portage Northern. Twichell has served as the DC for crosstown rival Portage Central for 5 of the last 7 seasons. Twichell, originally from Haslett, is 33 and is currently an elementary school teacher at Angling Road Elementary in Portage, he will become a phys ed teacher at Northern in the fall.
Lakeview voters approve bond, which includes turf

The number of grass fields in the SMAC is down one more after voters in the Lakeview school district approved a bond on election day. Various improvement will be made to buildings in the district, also notably is improvements to Lakeview's football stadium. Spartan Memorial Stadium was rebuilt in the mid 2000's but still maintains a grass playing surface. The bond lays out that turf is a part of the bond. There is no timetable as of yet for when the turf will be installed. With Lakeview becoming turf, only Mattawan, and the two Kalamazoo Schools (Central and Norrix) will be the last grass fields in the SMAC.
SMAC Update - March 30, 2021
Loy Norrix names head coach

Kalamazoo Loy Norrix has apparently hired their new head coach, we say apparently because the first anybody heard about it was the name change on the Loy Norrix football page of the MHSAA Website. Lorenzo Robertson is the successor after Terry Farmer left after four seasons. Robertson spent just one season as head coach of Dearborn Heights Robichaud. The Bulldogs were 3-5 this past fall, 2-4 in the regular season and 1-1 in the playoffs, Robichaud defeated Whitmore Lake 50-24 in the opening round before falling to Romulus Summitt Academy 27-6 in round 2.
SMAC Update - March 30, 2021
New 2021-22 Enrollment Figures released
| | | | |
| --- | --- | --- | --- |
| School | 2021-22 | 2020-21 | Change |
| Battle Creek Central | 1146 | 1151 | -5 |
| Battle Creek Lakeview | 1338 | 1353 | -15 |
| Gull Lake | 933 | 980 | -47 |
| Kalamazoo Central | 1687 | 1699 | -12 |
| Kalamazoo Loy Norrix | 1722 | 1659 | +63 |
| Lakeshore | 864 | 844 | +20 |
| Mattawan | 1146 | 1193 | -47 |
| Portage Central | 1393 | 1356 | +37 |
| Portage Northern | 1227 | 1252 | -47 |
| St. Joseph | 1020 | 1026 | -6 |

The MHSAA has released the enrollment figures to the 2021-22 school year. The official numbers will determine the playoff divisions and will be determined when the number of football playing schools are counted (11 man).
Kalamazoo Loy Norrix is the largest school in the SMAC, however they are still not playing football in the league yet again. Gull Lake who also is not playing in the league is the SMAC's 2nd smallest school only ahead of Lakeshore, who is the smallest at 864. St. Joe lost 6 to bring our enrollment to 1020. Gull Lake, Portage Northern, and Mattawan lost the most students, each dropping 47.
SMAC Update - March 9, 2021
Lakeshore names successor to Dock

Lakeshore named their new head coach to replace the now retired Denny Dock to lead the Lancers football program. Lakeshore has tabbed Danny Thompson as head coach. Thompson is a 2005 graduate from Middleville Thornapple-Kellogg high school. He went on to play some college football at Olivet College, but a back injury would end his playing career. His coaching career started in 2013 down in Florida before returning to his alma mater in 2018 and became the offensive coordinator at Middleville. Thompson was serving under Jeff Dock, who is the son of Denny Dock. Lakeshore's first game will be a home game against Portage Central
Brewster to Wyoming HS

A rather late change for Kalamazoo Central's football program as Carleton Brewster has decided to leave his post at Kalamazoo Central and accept a job at Wyoming High School (near Grand Rapids). Brewster played his high school football at Grand Rapids Creston, so he'll be closer to his hometown at Wyoming. Brewster will serve as the school's Dean of Students in addition to his role as head football coach. Brewster was 10-15 in his three seasons at Kalamazoo Central.
Schermerhorn retiring???

A recent post on footballscoop.com reports (dated 3/2/21) that longtime Portage Northern coach Pete Schermerhorn has decide to retire as head coach of the Huskies after 8 years. Schermerhorn was the longest serving coach at a SMAC school, he took the job in 1994 and compiled a record of 147-116 (.559) while at Northern. Most of his time was spent without a true home stadium for the Huskies until 2018 when the new Huskie Stadium opened. Our hope is that Northern would rename the stadium in Schermerhorn's honor, because that stadium would not be there if not for him. If the report is indeed true, a true legend has retired and the SMAC has lost one the top mentors of young men and women. Schermerhorn also spent time at the girls varsity basketball coach.
SMAC Update - February 15, 2021
Gull Lake stays in SMAC, but on hiatus for football

Gull Lake is not leaving the SMAC after all, but they are deciding to do what Kalamazoo Loy Norrix did prior to the 2020 season and pulling out of the conference for football so they can win a few ball games and try to build up the program. Gull Lake went 0-7 in 2020 and has won just 2 games in the last three seasons (2-7 in 2019, 0-9 in 2018). Gull Lake has not had a winning season since going 6-4 in 2009, which resulted in a first round exit in the playoffs at St. Joe. Gull Lake will remain in the SMAC for other sports but exit for football.
Turf again on the ballot at Battle Creek Lakeview

The Lakeview Schools are again putting a bond proposal together for voters to decide in May's election. Part of the districts $47 million proposal will be to replace the grass at Spartan Memorial Stadium with artificial turf. The bond itself would not be an increase to the current tax rate, but continue the rate that was in place when the bond that passed for the construction of the new Lakeview High School. There are very few specifics on the details of the bond, but there are three community Zoom forums scheduled for March. there are also no details on when the work on the stadium would be completed. Lakeview's stadium was rebuilt in 2006. Lakeview's football stadium is between the high school and middle school. Lakeview's middle school is the former high school building.
SMAC Update - January 22, 2021
Kalamazoo Loy Norrix looking for another new coach

While they aren't members of the SMAC in football, they hope to return to league play once they build the program back up to a level in which they can compete. The Knights program will have the start over from scratch again as Terry Farmer stepped down after four seasons, with a record of 4-30. Farmer came to Norrix in 2017 after winning Arkansas coach of the years in 2015 and 2016 while coaching at England Arkansas, He led England to five consecutive playoff appearances in Arkansas. He was touted as a coach that could turn around urban school football programs. That turn around never happened in Kalamazoo and he steps aside. On a related note, another former SMAC school is also looking for a new head coach, Niles coach Joe Sassano stepped down after 2020.
Gull Lake out of the SMAC???, it would appear so

Reviewing the schedules of SMAC teams for football this fall, we couldn't help but notice that Gull Lake is absent from league schedules, with the exception of Battle Creek Central. Gull Lake appears on the schedule of teams from their former league, the Wolverine Conference. Gull Lake has games scheduled with Wolverine foes Vicksburg, Plainwell, Otsego, and Three Rivers. also on the schedule, Marshall, Tecumseh, Waverly and Loy Norrix. Our game with Gull Lake has also been removed from the schedule and a game at Chelsea now appears. It should be noted, that we only know this for football. Gull Lake's athletic caldendar does not have a listing for any other sports. The number of games on Gull Lake's schedule against Wolverine conference teams and the apparent departure of Allegan from the Wolverine schedule would seem to show that Gull Lake is trying to re-enter the Wolverine after being kicked out in 2009.
SMAC Update - January 15, 2021
Dock retires again from Lakeshore after one year

Lakeshore Lancers head coach Denny Dock has retired for a second time. Dock stepped down after the 2013 season for his retirement from football, while still staying on as the Lakeshore softball coach. Bryan Keim was elevated to the head coaching role in 2014. After Lakeshore missed the playoffs after the 2019 season, Keim stepped down shortly after the season ended. Not long after the season ended, Lakeshore made the announcement that Dock was returning. Dock coached Lakeshore to a 7-3 record in 2020, with the Lancers forfeiting their final game in the Regional Finals to DeWitt. Dock's statement to the Lakeshore Administration said. "I have decided to retire, for the second and final time, from my Lakeshore Football coaching position. My retirement is not a direct result of Lakeshore's withdrawal from the state tournament but more for the sake of my physical and mental health. I have been thinking about this for quite some time. Far more evident to me than ever before is that the Head Football Coach is a year-round position. Coaching two varsity sports at the level I expect of myself is almost impossible. Frankly, I want to watch my son's games, be there for my grandsons' events, travel, fly my model airplanes and finish the restoration of my '32 MG." Lakeshore will open the 2021 season at home against Portage Central
Gull Lake hires former Norrix coach as new Head Coach


Gull Lake lost their head coach in March of 2020 when Ryan Gallogly resigned. Due to the pandemic, Gull Lake was not able to do a proper search to find his replacement. They filled the position on an interim basis with assist coach Don Eastman who was a head coach at Comstock in the late 90's. Now that the season ended Gull Lake has found a head coach. Former Kalamazoo Loy Norrix head coach Jason Porter has taken the job. Porter coached the 2015 and 2016 season for the Knights with a record of 1-17. Porter left his job as the Athletic Director at Parma Western High School to take on the role of Head Coach at Norrix. After leaving Norrix, Porter accepted a job at nearby Kalamazoo College. In addition to head coaching at Loy Norrix, Porter was a head coach at LaVille, Indiana. With assistant positions at Comstock, Parchment, Kalamazoo Christian, Kalamazoo Hackett. He was also the head softball coach at Kalamazoo College. (photo: Kalamazoo College Athletics). Gull Lake is slated to open next season at Kalamazoo Central.
2020 Offseason
SMAC Update - April 30, 2020
Gull Lake promotes Eastman is interim head coach

Even if schools are closed because of the pandemic, they have to proceed as if things will take place this fall. And that is the current situation at Gull Lake. Ryan Gallogly stepped aside in March, but Governor Whitmer's shutdown of the schools put a sudden stop to the search for a new coach. So with limited chance for a full search, Gull Lake has promoted from within for their coach, at least for this season. Don Eastman. Eastman is originally from Montrose, Michigan and attended and played college football at Western Michigan, including serving as a captain in 1990. He served at an assistant coach at Comstock for three seasons before becoming the Colts head coach in 1995. While serving as head coach at Comstock for seven years, he had 4 winning seasons, with a 40-27 record and a district championship in 1999. He stepped down as head coach to take on the role of principal of Comstock high school. Eastman will make his debut with the Blue Devils with a home game on August 28, against Kalamazoo Central, St. Joe will host Gull Lake in Week 8 on October 16
Mattawan Wildcats Network

Another SMAC School now has it's own "network" to broadcast their athletic events. Joe Jason Media, the same outlet that created the Lakeshore Lancers network, has launched a similar situation for Mattawan. Joe Jason Media, has broadast networks for Lakeshore, Dowagiac, Berrien Springs, South Haven and now Mattawan.
Enrollment numbers and football divisions announced.

The MHSAA has released the enrollment figures for the 2020-21 school year. They also announced the new playoff divisions for the upcoming fall season. Schools will be assinged to their playoff divisions before the season starts and the playoff field will be the top 32 teams in each division according to playoff points. Playoff Divisions have roughly 65 schools in each division (some more some less).
| | | | | |
| --- | --- | --- | --- | --- |
| School | 19-20 | 20-21 | Change | Division |
| Battle Creek Central | 1207 | 1151 | -56 | 2 |
| Battle Creek Lakeview | 1350 | 1353 | 3 | 2 |
| Kalamazoo Central | 1625 | 1699 | 74 | 1 |
| Lakeshore | 904 | 844 | -60 | 3 |
| Gull Lake | 1000 | 980 | -20 | 3 |
| Mattawan | 1173 | 1193 | 20 | 2 |
| Portage Central | 1359 | 1356 | -3 | 2 |
| Portage Northern | 1274 | 1252 | -22 | 2 |
| St. Joseph | 1019 | 1026 | 7 | 3 |
Changes to the playoff system include the pre determined divisions, but also a change to the bonus point formula, including bonus points on the record of the opponent, regardless of you defeated that oponent or not.
In addition to Lakeshore and Gull Lake, other Division 3 teams in the area include former SMAC schools, Battle Creek Harper Creek, Coldwater, Niles, and Sturgis. Other area and previous opponents in Division 3 include, Edwardsburg, DeWitt, East Grand Rapids, Zeeland East, and Zeeland West. The complete MHSAA playoff division list is here.
SMAC Update - February 20, 2020
Arrasmith named new coach at Mattawan

Less than two months after head coach Ryan Brown announced he was stepping down. The school didn't have look very far to find is successor. David Arrasmith will take over the Wildcats program. Arrasmith was the former interim head coach at Kalamazoo United (Hackett/K-Christian co-op). United went 7-5 this past season under Arrasmith, including a district championship. United lost their first three games before winning 5 of their last 6 games and still made the playoffs. Arrasmith's first game as Mattawan's head coach will be home against St. Joseph on August 28.
SMAC Update - December 5, 2019
Mattawan coach steps down

In a post on the Mattawan Football Facebook page, head coach Ryan Brown announced he was stepping down as the Wildcats head coach. Brown went 24-24 in his 5 seasons at the helm. Mattawan made the playoffs each of the last three years despite the fact that Mattawan was 5-5 in each of the last two seasons. There was no word from Mattawan adminstration reguarding Brown's departure. Brown was the Wildcats defensive coordinator when Matt Stevens stepped aside after a Title IX complaint was filed. Whoever Mattawan hires as head coach, their first game will be against St. Joe in week 1.
Lakeshore announces "Lakeshore Lancers Network"

Lakeshore sports fans will have the opportunity to watch and listen to a variety of Lancer sports, as well as other Lakeshore related content on the Lancers new Lakeshore Lancers Network. The Network is being launched along with a similar network for Dowagiac sports. The founder of the endeavor is Joe Jason, who has previously has been the broadcaster for St. Joe, Dowagiac, as well as the MHSAA network.
SMAC Update - November 26, 2019
SMAC to work with CAAC for scheduling


With the departure of Niles and Loy Norrix in 2020, the SMAC will now be down to 9 teams for football (Loy Norrix remains in all other sports). The SMAC will have a team with a weekly bye, and the 7 member Blue Division of the Capital Area Activities Conference will help fill in the schedules of the SMAC. The matchups between the two conference are determined by a 5 year cumulitive record. The teams will play back to back years. The matchups are as follows:
Week 1 - Battle Creek Lakeview (no CAAC opponent, they will play rival Harper Creek)
Week 2 - Kalamazoo Central (no CAAC opponent, they will play rival Kalamazoo Loy Norrix)
Week 3 - Battle Creek Central will host Lansing Everett
Week 4 - Portage Central will host East Lansing
Week 5 - St. Joseph will travel to Okemos
Week 6 - Mattawan will travel to Grand Ledge
Week 7 - Gull Lake will host Lansing Waverly
Week 8 - Portage Northern will travel to Holt
Week 9 - Lakeshore will travel to DeWitt
Lakeshore coaching change

Lakeshore made a change in the coaching ranks as Bryan Keim resigned after the 2019 season ended. Lakeshore went 4-5 this season, the first losing season in since 1987, missing the playoffs for the first time since 1997. About a week after the announcment of Keim's resignation as head coach, Lakeshore announced the return of a former head coach to retake the position. Denny Dock who coached the Lancers from 1988-2013 will return next year. Keim went 39-23 in his six seasons. Dock returns, looking to add on to his 208-66 record. Keim was the Lakehsore defensive coordinator for two seasons under Dock before Dock's first retirement. Dock also continues as the Lancers softball coach, which he also stayed on as after he stepped down in 2013.
2019 Season
SMAC Update - September 24, 2019
Niles leaves SMAC for all sports, Norrix for football


In separate articles in the Kalamzoo Gazette (Kalamazoo Loy Norrix to leave the SMAC in 2020), and the Niles Daily Star (Niles leaves SMAC to join BCS Athletic Conference in 2020-21). The SMAC will lose two members of the league following this school year. For Niles it involves all league sports, and the move by Loy Norrix is for football only. Niles is claiming the travel as one reason for the departure. The Vikings also state a desire to resume their rivalry with Dowagiac. Niles is an original member of the SMAC conference and has been in the league since it formed in 1938. Norrix is leaving the league for football only stating an inabilty to field a competitive team, Norrix has only won 20 games in the league in the last 15 years with one of those coming via a forfeit. Norrix will play as an independent team but will continue their rivalry contest with Kalamazoo Central, as well as playing former SMAC schools like Niles, and Benton Harbor.
2019 Pre-season
SMAC Update - June 17, 2019
McCamley progressing quickly

In recent postings on Social Media, including panoramic photos, drone video flyovers and various other updates. It appears that the Portage Central football team will be at home during week 1. And when we say home, we mean their own home... as in the newly constructed McCamley Field. Recent videos show that the turf at both the football and soccer fields have been installed, the scoreboards are also installed and the new bleachers at both the soccer and football fields are also also installed. The only things that seem still need to be completed are some of the outbuildings and the grounds surrounding the stadiums.
Lakeshore replacing turf

The playing surface at Al-Stockman Stadium in Stevensville is getting a revamp, and a year ahead of time. It was announced that the existing artificial turf that was installed in 2008 will be replaced. Turf surfaces like the ones installed at many of the SMAC schools, St. Joe included, typically last around 10-15 years with normal use. Lakeshore was planning to redo the surface next summer with their own funds, but one of the original donor has stepped up to help accomplish the redo a year early.
Not football related, but congrats PN

With a 10-4 over Rockford, the Portage Northern Baseball team walked away with the MHSAA Division 1 State Baseball Championship. The State Championship is the first for the Huskies Baseball program.
SMAC Update - February 24, 2019
Pratley new St. Joseph head coach

With the departure of Gandalf Church at the helm of our Bears, Andrew Pratley takes over as the 18th head coach in our program's history. Pratley has 15 years experence as a head coach at the Class A and Class B school levels. Pratley was the head coach at West Branch Ogemaw Heights from 2004-2012 and Holland from 2013-2018. In those 15 years he and his teams made 10 appearances in the playoffs.
McCamely Field update

While early problems slowed the progress of Portage Central's McCamley Field, things have accelerated in the last few months despite the adverse weather. The Home stands as well as the press box are in place. However, the stadium is still slated to open in October, well after the start of the 2019 regular season. Photos posted on Social Media confirm that the stadium is indeed "turned around" meaning that the home stands will no longer face the sun, but the visiting stands will. Portage Central is scheduled to play their first game of the season at home on August 29th. However, that may again be at Huskie Stadium on the campus of Portage Northern. The annual Portage Northern/Portage Central game is scheduled to be a Central home game this season, which may mean that Northern will be the road team at their own stadium.
NFHS Rule Changes include 40 second play clock

The NFHS rule changes for the 2019 season were announced and the most notable of the rule changes is the change of the play clock from 40 to 25 seconds. The new play clock will be 40 seconds at the conclusion of the previous play, instead of 25 when the officials determine the ball ready for play. The change is being made to provide a more consistent time period between downs, no matter the officials who manage the game. The play clock will be for 25 seconds following a penalty, timeout, before a kickoff, before an extra point, or quarter. The 40 seconds will start when the ball is ruled dead by an official. In the SMAC, eight of the 11 teams have the play clocks installed in their stadiums. Only Mattawan, Kalamazoo Loy Norrix, and Kalamazoo Central do not. The play
2018 Season
SMAC Update - September 29, 2018
New McCamley delayed

Some unexpected problems have thrown a proverbial wrench into the works of the new McCamley Field at Portage Central. Some issues have cropped up with the drainage at the new stadium which has delayed by nearly two months. Because of the issues, the stadium has had to have some design refinements and adjustments, which pushes back the completion of the new stadium until well after the 2019 season is supposed to begin, which makes the likelyhood that Portage Central will play another season at Portage Northern's new Huskie Stadium. The expected opening for the new McCamley is now pushed back to mid October at the earliest.
Former Mustangs coach recovering

We recently learned that former Portage Central head coach Bob Knight, was hospitalized and required surgery. Knight and former St. Joe coach Ike Muhlenkamp created one of the best 20 year battles in the old Big 8 when the conference title regularly went through St. Joe or Portage Central. Knight was on hand for the final game at the old McCamley Field last year when St. Joe closed out the Mustangs home field with a 14-7 win. Knight threw the switch to turn off the lights before a nearly 20 minute long fireworks show to close out the stadium. We wish him a speedy recovery.
2018 Preseason
SMAC Update - August 10, 2018
Huskie Stadium... Pretty much complete

After waiting for over 50 years, Portage Northern's football team is just weeks away from playing their first real home game in school history. Huskie Stadium on the grounds of Northern High School is pretty much complete. The prefabricated pressbox was lifted into place during the week. Which makes the stadium ready to go for the opener on August 24th against Kalamazoo Loy Norrix. Their rival Portage Central will play their first "home game" at Northern's field the followin week against Kalamazoo Central.
Portage Central football not the only sport to be on the road

With the demolition of the old McCamley Field at Portage Central now complete, the Portage Central football team is obvioulsy playing each of their games at Portage Northern's new Huskie Stadium. However the Mustang football team is not the only fall sport forced to play at their rival's home field. The Portage Central soccer team has also had to give up their home games this season and play across town at Northern's Huskie Field, the soccer field that opened last year. The work at McCamley is taking place almost on top of where Central's soccer field is located and it cannot be used while the new football stadium is being built at Central. Portage Central's soccer schedule has been adjusted to accomodate the updated location information. One of the Central home matches has been made into a road game. The Mustangs game vs. St. Joe will now be played at the new Steve Upton Family Field at Dickinson Stadium on Tuesday, September 11th.
Voters in Mattawan say "YES"

Voters in the Mattawan school district gave their approval to two bond proposals during the recent election. One was a renewal of the non-homestead property tax. The other issue was for a little more than $19-million for some repairs, renovatons, and technology upgrades for the district. One of those needs was for some of the athletic facilities. The district plans to build some new concession and restroom facilities near their baseball and softball fields, and the football stadium will also benefit with actual team rooms/locker rooms. Currently teams dress and meet in portable and temporary buildings near the elementary school. The bond will build new locker rooms at the football stadium. The bond does not include any actual work on the football stadium, or turf. A few years ago a bond for turf was defeated at the polls.
Oh yeah... OUR FIELD IS DONE!!!!

Last but not least, our brand new turf field is complete. Steve Upton Family Field at Dickinson Stadium is now all ours after nearly three months of construction. The new field will officially open on August 24th against Battle Creek Central.
2018 Offseason
SMAC Update - May 20, 2018
Turf complete, scoreboard installation begins at Huskie Stadium

The synthetic turf field at Portage Northern's new Huskie Stadium appears to be complete, other than maybe a few minor things to check off the list, but the installation of the new scoreboard started earlier this week, and despite what we were told, Portage is not going with the Daktronics scoreboards like we were told earlier this year. The scoreboards are from a different company, but it will still feature a full color video display on the top half of the structure. A photo was posted on the PN football twitter page (https://twitter.com/PortageNorthern/status/996837261974130688).
MHSAA's selects Uyl as new Executive Director

The MHSAA has named the successor to Jack Roberts. Mark Uyl will take over when Roberts' retires later this summer. Uyl has been with the MHSAA since 2004. He's a former teacher, coach, and administrator. He is currently the Assistant Director of the MHSAA right below Roberts. Uyl has also been a college baseball umpire and is said to be one of the best umpires at that level. More on Uyl from the MHSAA press release can be seen here.
Dicksinson Turf Update

Now that the final event has been held at Dickinson, work on the new playing surface has begun. The first step will be to create a "bridge" over the track surface so that the trucks and heavy equipment don't damage it when the work begins.
SMAC Update - April 28, 2018
Lakeview tabs Diorio as Head Coach

Benton Harbor assistant coach Jerry Diorio was named as the next head coach at Battle Creek Lakeview earlier this week. Diorio has been the top assistant coach for Benton Harbor under Elliot Uzelac the last three seasons. Diorio played for Uzelac while at the University of Michigan, Diorio was also the head coach at Wayland when St. Joe defeated the Wildcats in the 2008 playoffs. Diorio will be a social studies teacher at Lakeview Middle School. Lakeview was 4-5 last year. St. Joe faces Lakeview in Battle Creek in week 7.
Northern has turf

Progress has accelerated in the construction of Huskie Stadium at Portage Northern high school, now that the weather has started to cooperate. This week the installation of the artificial turf playing surface has begun. From the photos posted by the Portage Public Schools on their Facebook page, the endzones will be brown and the sidelines are orange. Huskie Stadium will make it's official debut on August 24th.
BC Central looking for new A.D.

It's been revealed that Battle Creek Central has an opening for a new Athletic Director. Michael VanHoven is stepping down after this school year. VanHoven is originally from California and was a wrestler at Cal State Fullerton. CSF's wrestling team was discontinued in 2010. VanHoven has had stops as a coach, including Flint Beecher High School. St. Joseph will open the 2018 season at home against Battle Creek Central.
MHSAA's Roberts announces his retirement

MHSAA Executive Director John "Jack" Roberts announced his retirement effective in August. Roberts has spent the last 32 years as Executive Director. When he steps down, he will be the second longest serving Executive Director in the 94 year history of the MHSAA, and only the 4th person to serve in that role. When asked about his greatest accomplishments during his time. he said that the efforts to increase safety of the student athletes, allowing for cooperative teams. and the programs to increase sportsmanship. The MHSAA did not announce a timeline to name his successor.
Dickinson turf news

Our last update for now is the update on the work on the turf at Dickinson Stadium. While we can't reveal any details about it. The final designs are close to being approved and renderings of the new playing surface are expected roughly the same time. Dickinson's last event before the installation of the turf starts will be the 2018 SMAC Track and Field meet on May 12. The work on the new surface is expected to begin on the following Monday. When we get anything, we will post it here.
SMAC Update - April 16, 2018
Kalamazoo Central names head coach

Kalamazoo Central has found their next head coach, and it's in the form of a Ferris State alum with stops in Denver, Green Bay, New Orleans and San Diegon in the NFL. Carlton Brewster takes over the Maroon Giants program. Brewster played his high school football at Grand Rapids Creston, falling in the 1999 state championship game. While at Ferris State, he amassed over 3,100 yards recieving and 25 touchdowns. He does have head coaching experience, with stops at Wyoming Lee and Wyoming Godwin Heights. More information fromm Mlive and Fox 17.
SMAC Update - March 29, 2018
Portage Northern Stadium update

It's been a few months since we've seen any photos and videos of the new football stadium at Portage Northern, until today. A tweet appeared from a Portage area drone photographer, who has taken many videos of the new faciltiy posted a few aeriel shots of the new stadium. The photographer posted the photos on his twitter page, (and can be viewed here. We can clearly see the home stands nearly complete with the exception of a press box, the visiting stands are just starting to be installed. We can also see one of the track and field sites in the north end of the stadium, as well as the two field goal posts. The outbuildings look like they are nearly completed, which could either be a concession stand or restroom facility. We do see a ticket booth. The stadium will be used by Northern and Central this season before the new stadium at Central opens in 2019.
SMAC Update - March 23, 2018
Filling out the schedule... part 3

We've learned that Kalamzoo Central's Week 3 game will be against Flint Powers Catholic. We do not know if the game is in Kalamazoo or in Flint. But Kalamazoo Central's MHSAA Football page says To Be Announced, but at Home. The other SMAC School with a TBA looks like it's also filled and the Bearcats week 5 game will be against an old rival. The Bearcats will face Benton Harbor at Filstrup Field in BH. Benton Harbor still has 3 open dates on their schedule, but they have 3 games against current or former SMAC teams (BCC, Mattawan, Harper Creek)
SMAC Update - March 17, 2018
MHSAA Enrollments Released

The Michigan High School Athletic Association has released the enrollment figures for the upcoming 2018-19 school year. For the 10 of the 11 SMAC schools there will be no change in classes, the 1 that will change is Lakeshore, who drop from Class A to Class B.
The school with the largest decrease in the conference is Battle Creek Central, who lost 185 students from last year. Portage Northern lost 55, with St. Joe down 33 and Lakeview down 32. The greatest increase was 22 at Gull Lake and 17 at Niles.
| | | | |
| --- | --- | --- | --- |
| | 2017-18 | 2018-19 | Change |
| Kalamazoo Central | 1,658 | 1,672 | 14 |
| Kalamazoo Loy Norrix | 1,584 | 1,587 | 3 |
| Battle Creek Lakeview | 1,388 | 1,356 | -32 |
| Portage Central | 1,353 | 1,349 | -4 |
| Portage Northern | 1,339 | 1,284 | -55 |
| Mattawan | 1,171 | 1,153 | -18 |
| Gull Lake | 1,028 | 1,050 | 22 |
| Battle Creek Central | 1,199 | 1,014 | -185 |
| St. Joseph | 1,043 | 1,010 | -33 |
| Niles | 867 | 884 | 17 |
| Lakeshore | 891 | 864 | -27 |
While in previous years, the MHSAA Classication of A, B, C, and D were used for Boys and Girls Basketball, and Girls Volleyball. Starting in the fall of 2018, each sport will be divided into equal divisions of schools that sponsor that sport. The Class A, B, C, and D will still be used in their current format in the MHSAA Football playoff formula. A win over a Class A team will earn a school 80 points, 64 for a win over a Class B team, 48 C, 32 D. The MHSAA Will release the individual sport breakdowns in a few weeks.
Schermerhorn down to one coaching job

Portage Northern football coach Pet Schermerhorn stepped down from one of his positions at Northern. He recently stepped down as coach of Northern's girls varsity basketball team. Northern went 0-21 this past season after a 10-11 season the year before. Schermerhorn spent the last three years at Northern's varsity girls coach.
A whole lotta nothing from KC and Lakeview


We are still awaiting any word on who the next head coaches will be for Battle Creek Lakeview and Kalamazoo Central. Matt Miller stepped down in early January, calling it quits after 30 years of coaching. While Dana Chambers tenure at Kalamazoo Central ended in November after the Maroon Giants season ended.
Video boards at Northern/Central


While we have yet to see any updates recently on the construction of the new stadium at Portage Northern, we did learn that Northern, and eventually when it opens a year later, and Portage Central's new stadiums will include video scoreboards, similar to what we have at St. Joe, but with the exception of the ability to do live video. The live video feature isn't expected be used until each school plays at their own stadiums.
Filling out the schedule... part 2

Earlier we posted that most of the SMAC schools that had an open week on the schedule have filled those games. One was Battle Creek Lakeview, who had an opening in week 9, they'll play at their longtime former conference rival Battle Creek Harper Creek. We still don't have anything on Kalamazoo Central's week 3 game.
SMAC Update - January 8, 2018
Lakeview's Miller steps down after 30 years of coaching

Battle Creek Lakeview is the second SMAC school that will be in search of a new head football coach. We told you a few weeks ago that Dana Chambers has stepped down at Kalamazoo Central, now Battle Creek Lakeview Matt Miller is also stepping aside. Miller has been a coach in some capacity for 30 years, the last 20 at Lakeview and 9 of them as the Spartans Head Coach. Miller leaves with an 48-29 record. During his tenure Lakeview made 5 straight playoff appearances in 2012, 13, 14, 15, & 16. Miller told the Battle Creek Enquirer (link) he considered stepped down last year when his son graduated, but he stayed to make it an even 30 year career.
SMAC Update - December 26, 2017
Filling out the SMAC Schedule

After Benton Harbor's departure from the SMAC after the 2015 season, 9 of the 11 SMAC schools have to fill the "open" date in their schedule with Benton Harbor's depature.
Here are the teams and their Open date games as we know right now.
Week 1 - Lakeshore (at Holland West Ottawa)
Week 2 - Kalamazoo Loy Norrix (vs. Holland)
Week 3 - Kalamazoo Central (TBA)
Week 4 - Portage Northern (vs. East Lansing)
Week 5 - Battle Creek Central (TBA)
Week 6 - Gull Lake (vs. Detroit Country Day)
Week 7 - Mattawan (vs. Benton Harbor)
Week 8 - St. Joseph (vs. DeWitt)
Week 9 - Battle Creek Lakeview (TBA)
Niles and Portage Central do not have bye weeks
SMAC Update - December 25, 2017
Dana Chambers resigns as Kalamazoo Central head coach

After 8 seasons, Dana Chambers has decided it's time for a new voice to direct the Kalamazoo Central football program. Chambers has resigned as the Maroon Giants head coach. In an article from the Kalamazoo Gazette, Chambers said. "I just think the program needs a different voice, and the kids need to hear a new voice. There's nothing personal; it's just time for me to move on from that position." Chambers had a record of 23-49 in his 8 seasons, having never made the playoffs. and only finishing with a winning record once (5-4 in 2016). Chambers plans on staying in his position as a disciplinarian at the high school. There has been no statement from Kalamazoo schools about Chambers resignation.
New SMAC Logo

The SMAC has released a new logo for this year. The New SMAC logo also includes color varients for each SMAC school. St. Joe, Portage Central, Niles, Mattawan, and Battle Creek Central also has a varient depending on their shade of maize and blue, blue and gold. The SMAC Logo's and their varients are on the SMAC page here.
SMAC Update - November 24, 2017
Dickinson changing to synthetic turf

When Dickinson Stadium was designed, the original plans called for it to be built with artificial turf, after 15 years that turf will finally be installed. Thanks to a donation from Steve and Elizabeth Upton, Dickinson will be getting the artificial playing surface it was intended for. The donation will be reflected in the name for the new surface. It will be known at Steve Upton Family Field at Dickinson Stadium. The playing surface will be completed in time for the 2018 regular season practice. It also means soccer is moving back to the high school for the first time since the early 1990's. Dickinson will become the 6th SMAC school that will have synthetic turf. There are three SMAC schools will turf right now. Lakehsore, Gull Lake, and Battle Creek Central currently have turf. This summer Dickinson will be converted and Portage Northern's new stadium will open and in 2019 when Portage Central's new stadium will open it will mark more than half of the conference schools playing on turf.

Update on Portage Northern's new stadium

Portage schools have posted a new video and a few photos on their football facebook page about the progress being done at the new Portage Northern Huskie Stadium, in the drone video (starting at the 1:38 mark) you can see the 4 light pilars already in place, as well as the some of the support columns for the home stands, the outline of the track, the supports for the scoreboard. As well as ticket booths, restrooms, and concession buildings.
2017 Season
SMAC Update - July 15, 2017
Mattawan installs new scoreboard

I guess we impressed them. Mattawan's Athletic Booster Club has stepped up and purchased a new scoreboard for the Mattawan football stadium. The picture shown on facebook shows the new board which also includes a message board. The photo also shows that the scoreboard is actually a field hockey scoreboard which can be converted for use in football with the addition of metal name plates that slide into place, like our old scoreboard did for track and field season. Like ours, the board is by Daktronics Inc., Daktronics is probably the world leader in scoreboards and video, message displays. Daktronics is responsible for the football scoreboards not only at St. Joe, but Lakeshore, Niles, Kalamazoo Central, Loy Norrix, Battle Creek Central, and Battle Creek Lakeview. Recently Daktronics installations include Ford Field, Little Caesars Arena in Detroit, Mercedes Benz Stadium in Atlanta.
Click for the full size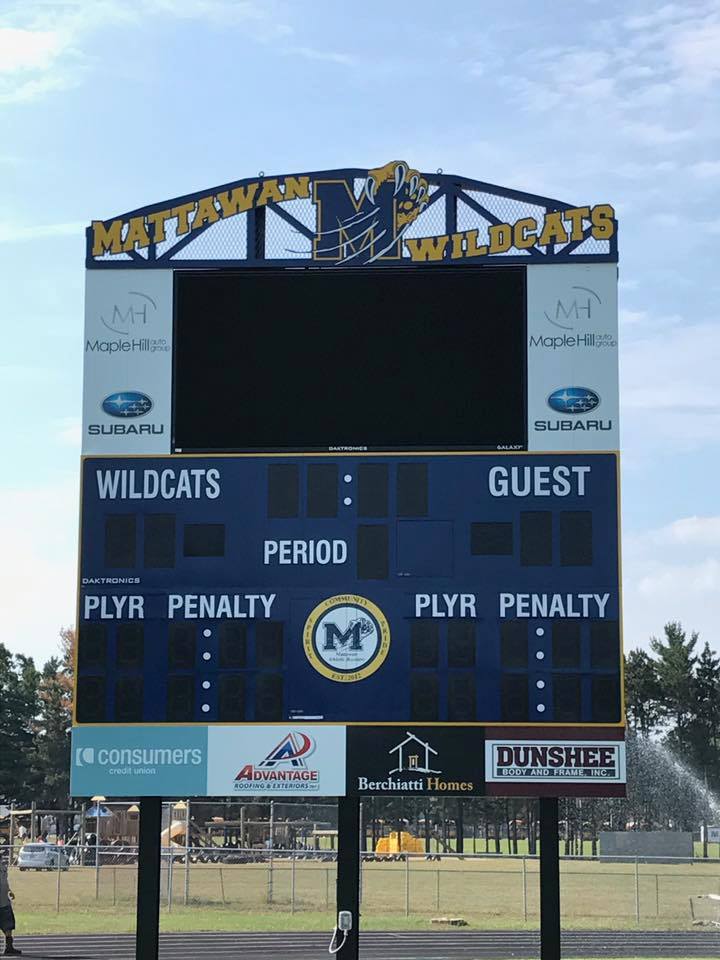 SMAC Update - July 15, 2017
Mattawan in search of new Athletic Director

A job posting on the Mattawan schools website indicates there is an opening for the Director of Student Activies/Athletics position at Mattawan. There is no word on why existing Athletic Director Ken Mohney is not returning for the upcoming school year.
SMAC Update - July 15, 2017
Construction undway at Northern's new stadium, soccer field has turf


In a recent video taken from a drone flyover of the new facilities at Portage, show that quick progress on the new Northern soccer stadium as well as the ground work and site prep work progressing at the new Huskie Stadium for football. In the video (https://www.wevideo.com/view/943463129) the drone flyover shows the work at the new pool at Central, the new soccer field and football stadium at Northern.
Niles game to be televised

TV 46 WHME, who has done several of the St. Joe/Lakeshore games in the past few years, will venture into Michigan again next season, The South Bend TV station will broadcast the Niles/Fairfield game on September 8th. While the games are televised, they are not broadcast live. The game will air at 11 PM that Friday night and again at 9 AM the next morning. The games also can be purchased on DVD.
SMAC Update - May 13, 2017
Official groundbreaking ceremony at Portage Northern, stadiums names revealed.


While the most high profile and notable project is still over a year away from completion, the Portage Public Schools held an official groundbreaking ceremony this week. Construction has already begun on several of the new athletic facilities, including a new multi use field for soccer/lacrosse, a practice field and the tentatively named "Huskie Stadium." The new football stadium is still scheduled to be opened for the 2018-19 season. The new "Huskies Stadium" will be hosting both Portage Northern and Portage Central's football games for the 2018 season. The two schools have been sharing McCamley Field at Portage Central since 1964, when Northern opened. McCamley Field opened in 1952.
The Huskie Stadium name apparently has been voted on by a committee of students and administration. Another finalist for Northern's field was The Tundra at Portage Northern. As for Portage Central, students and administrators have decided that they would prefer the McCamley Field name remain for the new stadium at Central. McCamley is named after Stuart McCamley who was a founder in the Portage area, but also donated the land where the stadium currently stands. In the same way that St. Joe kept the Dickinson Stadium name when the new field was opened in 2003. The high school currenlty sits on the land what used to be part of the Dickinson Estate which was donated to the St. Joe schools.
The names are only recommendations by the students of each school. The Portage Board of Eduction will vote on making those names official at their next meeting on May 22. Both schools are holding a commemorative brick sale for both facilities. They can be found at www.pnbricksale.com or www.pcbricksale.com. The schoold held a name the stadium survey and found there was little support for any corporate or professional style naming rights deals.
The schools also found out that the bids for the stadiums have come in almost $3 million under what they had projected.
Dickinson update

The reseeding process at Dickinson stadium was pushed back from it's originally scheduled date in April. Because of the heavy rains in the area in April and in early May, it was decided to hold off on the new surface. The field has been regraded and leveled and has finally been seeded. A few track and field meets also pushed the reseeding process back a few weeks. Even with the delay, the field is still expected to be ready to play well in advance of the Bears preseason activities at Dickinson Stadium.
SMAC Update - May 2, 2017
Move West Mattawan

The SMAC will have a slightly different alignment for the start of the 2018-19 school year. Mattawan, will be leaving the Eastern Division and moving back to the Western Division. Mattawan will be one of three SMAC teams that have at one time been in three different SMAC/Big 16 Divisions (East, West, and Central). Mattawan joined the league in 2001 and were placed in the Central Division, where they stayed until 2007-08 when they went to the West Division. Mattawan was placed in the West Division in 2007 after Dowagiac's departure. Mattawan stayed in the West after another realignment in 2009 and again in 2011 when Gull Lake joined, replacing Lumen Christi. When 4 schools in the East left Mattawan was placed in the East Division in 2014, where they've been since.
SMAC Update - April 29, 2017
Another SMAC school has a new coach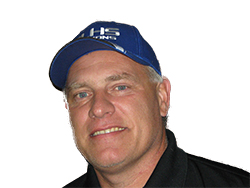 After a 1-8 and 0-9 season, Kalamazoo Loy Norrix once again has been in search of a new football coach. Jason Porter, who game to Norrix from Parma Western, stepped down after a 1-17 record. The Knights found a coach that could bring one of the biggest turnarounds in the SMAC, one rivaling the job Elliot Uzelac has done with Benton Harbor. Terry Farmer comes to the Kalamazoo area after several years in SEC country. Farmer spent the last five seasons at England High School in Arkansas. His 2016 England team (Lions) fell in the state 2A Semifinals. Farmer had a 49-14 record at England, 14-1 in 2016, outscoring opponents 48.2 to 14. Farmer is the 4th head coach at Loy Norrix since the 2006-07 season (Duane Young, Sean Bergan, Jason Porter, Farmer)
SMAC Update - April 19, 2017
Dickinson Stadium Update

Over the spring, work has continued at Dickinson Stadium to replace the playing surface, the next phase of the project will start next week when the site will be made level and the reseeding process will begin. The grass from last year became unplayable and potentially dangerous if things were not corrected. The decision was made to remove the old grass and dig down and take up several inches of the soil so the entire field could be replaced. This summer, the stadium will also be undergoing some repair work. The railings around the stadium have slowly started to become lose from the concrete bases and then causing the concrete to fracture and fall out and making the rails unstable and exposed. Work to repair and replace some of those railings will be completed over the summer in addition to the replacement of the running track.
SMAC Update - March 25, 2017
Gull Lake hires new football coach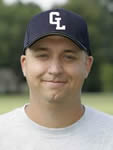 Gallogly
Photo: Battle Creek Enquirer, via Lafayette Journal and Courier. modified by stjoefootball.com
Gull Lake has been searching for a new football coach since Tim Van Wormer stepped down after three seasons as head coach. Van Wormer stepped down after going 8-19 in his three seasons. Taking over the Gull Lake football program is 36 year old Battle Creek native Ryan Gallogly has been named as head coach. Gallogly is the fourth head coach since Mark Blaesser was hired in 2005. Blaesser coached until 2010 going 34-23. Former Western Michigan Quarterback Tim Hiller coached from 2011 to 2013 going 8-19, the same record as his replacement Van Wormer.
According to the Battle Creek Enquirer, Gallogly is a graduate of Western Michigan University and is a native of the Kalamazoo and Battle Creek area. Gallogly was a head coach at the age of 22 for Lafayette Catholic Central in Indiana. Six years as a head coach at Brebeuf Prep, also in Indiana with a 47-20 record. He also spent one season as head coach at East Kentwood in 2003, with a 5-4 record with the Falcons. Gull Lake will play at St. Joseph in week 8.
Work begins at site for Portage Northern stadium

Ground work has begun on the site for the new football stadium at Portage Northern High School. While the site is still unable to be seen, it's been said that the stadium will actually be below ground level, similar to the stadium at Kalamazoo Central and Otsego. The stadium still has no official name as of yet, although the Portage School District held a name the stadium contest in January.
Field and track will be replaced at Dickinson.

After the playing surface at Dickinson Stadium was infested and destroyed by grubs and other pests. Work is underway to redo the field for next season. The existing grass was killed off and is currently being removed, along with close to a foot of dirt from the field. After that is removed, new dirt will be placed and the field will be reseeded and allowed to grow over the spring and summer to be ready for next season. In fact only two events will be held at Dickinson Stadium during the spring, St. Joe was set to host the 2017 Rotary Track Meet, but because of the work, that was moved to Benton Harbor for a second straight year and only two regular track meets will be at St. Joe. In addition, graduation will not be held at Dickinson Stadium, it will be at Shadowland Pavillion on Silver Beach. It was held there in 2002 and 2003 when the current stadium was under construction.
Then during the summer, the track surface will also be replaced. The track has been in place since the stadium was constructed in 2003.
2016 Season
SMAC Update - October 9, 2016
First artist concepts of new Portage Northern Stadium released

The first artist concepts of the new football venue to be built in Portage have been released by the Portage Board of Education.
Northern's new stadium will be located on the northwest corner of the Northern High School property with the north end of the field along I-94 before the Westnedge exit. The new stadium will have an artificial turf playing surface.
The stadium does not have an official name. We've learned that the Portage School Board reserves the right to name the facilty as they see fit, possibly opening up the possibility of a naming right's option.
However, there is the chance that construction of the new stadium at Northern will not begin in the Spring of 2017 as previously announced.

(Images courtest PortagePS.org)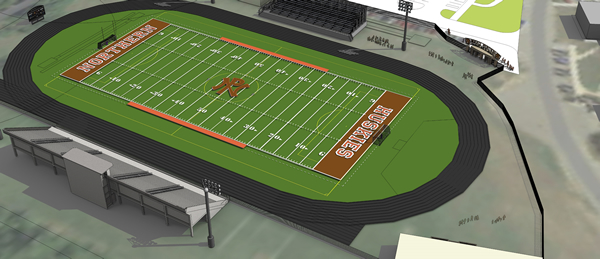 Arial view of new northern stadium, looking from the southwest to the northeast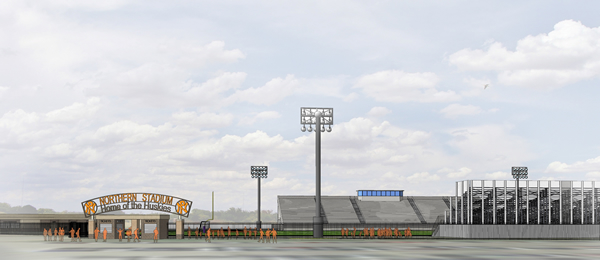 View from the parking lot, looking west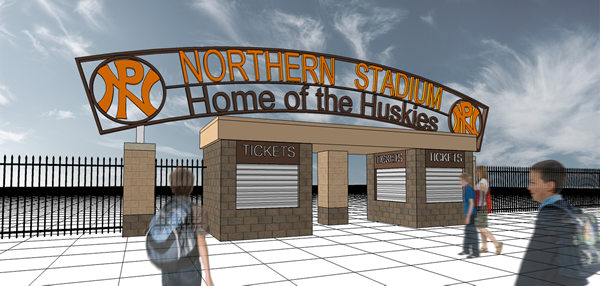 Northern stadium entrance gate. Facing West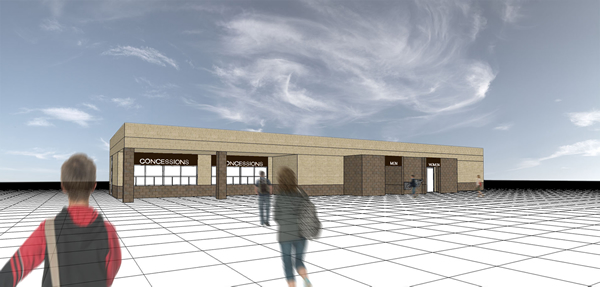 Concession/restoom building, located in the southwest corner of the stadium complex.
SMAC Update - July 27, 2016
Lakeview hires new A.D.

Battle Creek Lakeview has been in the news recently, most notably with the school's new policy that forbids their students from having cell phones while in class. But the school has also named their new athletic director after the retirement of Greg Hermsen. Hermsen was the AD at Lakeview since 1997. Zac Stevenson is the new AD, he's from Michigan and has spent time in Manistee and Detroit. He has been living in New Hampshire for 2 1/2 years. He's a graduate of Western Michigan University. He has also been a coach, coaching soccer and basketball.
Former Maroon Giant calls it a career

Former Kalamazoo Central and Western Michigan University great Greg Jennings has announced his retirement from the NFL. Jennings played in 10 NFL seasons, his first 7 with the Green Bay Packers, two with Minnesota, and one year with the Miami Dolphins. Jennings (32), helped lead the Giants to their second ever playoff appearance in 2000, when the Giants went 7-3 that season, including a 12-2 win at St. Joe in which Jennings returned a punt well over 90 yards for a score. Jennings caught 571 passes for 8,291 yards and 64 touchdowns. Amazingly Jennings never lost a single fumble in his 10 year career. He won a Super Bowl while with the Packers, (Super Bowl XLV on February 6, 2011).
40 Second play clock now an option

Starting with the 2016 season, schools and leagues can ask the MHSAA for permission to use a 40 second playclock instead of the normal 25. The 40 second option would have the clock resetting within 3 seconds after the previous play ends, The back judge will signal for the 40 second clock to start. There are more than a dozen exceptions where the clock will reset to 25 seconds, such as after a penalty, after timeouts, etc. The application is not a guarantee that the game will be granted approval to go to the 40 second option. It's similar to the MHSAA's policy last season for basketball where schools could apply to do a game in two halves instead of four quarters.
SMAC Update - May 29, 2016
Bears and Giants at the Big House


St. Joseph and Kalamazoo Central will open the 2016 season three hours before everybody else will, but the first game of the SMAC season also will be taking place roughly 149 miles east of the originally scheduled location. Instead of the Bears and Giants opening up at Dickinson Stadium, the two teams will be meeting for the season opener at Michigan Stadium in Ann Arbor on the Campus of the University of Michigan. The game scheduled for August 26th will start at 4:00 PM. It's part of a 7 game "Battle at the Big House" series of games over a three day period. St. Joe and Kalamazoo Central are the third of the seven games. There are two games each on Thursday and Friday, and three games on Saturday.
Thursday 8/25
4:00 - Brighton vs. East English Village Prep
7:00 - Walled Lake Western vs. Farmington
Friday 8/26
4:00 - St. Joseph vs. Kalamazoo Central
7:00 - Clarkston vs. Lapeer
Saturday 8/27
1:00 - Detroit Catholic Central vs. Sterling Heights Stevenson
4:00 - East Kentwood vs. Farmington Hills Harrison
7:00 - Ann Arbor Pioneer vs. Muskegon
Portage Stadium Updates


We've been eagerly awaiting any updates on what the new stadiums in Portage will look like, but the designs haven't been released to the public yet. However, we do know when those facilties will be worked on and when they will open. A post on the Portage Public Schools Bond update page says that the facility at Northern will be built first, However contstuction is not scheduled to begin until Spriing of 2017, and will continue through Summer of 2018 and will be open in time for the Huskies 2018 fall schedule. Central's stadium will begin construction in Spring of 2018 and will wrap up in Summer of 2019 with the Mustangs making their debut in the new PC stadium in the fall of 2019.

Both schools will play thier 2018 schedule at the yet unnamed stadium located at Portage Northern High School. There is no word yet on any names on Northern's new stadium or if the stadium at Central will retain the McCamley Field moniker. There are no specifics on any designs, renderings of either stadium yet either.
No turf at Spartan Memorial

During the most recent elections, voters in the Lakeview school district were asked to pass two bond proposals. One would pay for new equipment and technology and remodel some buildings. The other would improve the athletic facilities at Lakeview, including the addition of turf at Lakeview's Spartan Memorial Stadium. The first one passed by a nearly 60%-40& split. However the athletic issue failed by 74 votes.
Lakeview's AD Hermsen to retire

It was reported that Battle Creek Lakeview's Athletic Director Greg Hermsen will retire. Hermsen helped guide Lakeview's transistion for the Twin Valley Conference to the SMAC in 2001. He's been at his current position since 1997 after a stint as an assistant football coach at Western Michigan University. Hermsen will stay on until the end of June.
SMAC Update - March 26, 2016
MHSAA Enrollments Released

The Michigan High School Athletic Association has released the enrollment figures for the upcoming 2016-17 school year. For the 11 remaining SMAC schools there will be no change in classes.
The school with the largest decrease is still the largest school in the conference Kalamazoo Central. Loy Norrix also lost 61 students but remains the second largest school in the conference. Portage Central gained 37 students and overtook crosstown rival Northern for 3rd. With the departure of Benton Harbor, Lakeshore is now the smallest and now the only Class B team in the conference at 865 students. Lakeshore lost 9 students for a total of 865.
| | | | |
| --- | --- | --- | --- |
| | 2015/16 | 2016/17 | Change |
| Kalamazoo Central | 1693 | 1615 | -78 |
| Loy Norrix | 1580 | 1519 | -61 |
| Portage Central | 1351 | 1388 | 37 |
| Portage Northern | 1375 | 1378 | 3 |
| Lakeview | 1344 | 1353 | 9 |
| Mattawan | 1175 | 1202 | 27 |
| Battle Creek Central | 1115 | 1104 | -11 |
| Gull Lake | 1050 | 1076 | 26 |
| St. Joseph | 980 | 989 | 9 |
| Niles | 908 | 931 | 23 |
| Lakeshore | 874 | 865 | -9 |
SMAC Update - March 6, 2016
Changes at Niles

Shortly after the 2015 season ended, Niles coach Antwon Jones stepped down as the Vikings head coach. Less than a month later Jones was hired to be the head coach at South Bend Adams, which he serves as the Student Resource Officer. Jones played three seasons at the University of Notre Dame, under Coaches Lou Holtz and Bob Davie and went 13-23 in four seasons with the Vikings.
Filling the vacancy at Niles will be Joseph Sassano Jr.. Sassano is originally from the South Bend area, where his father Joe Sr. was working as an event booker for the University of Notre Dame's Athletic and Convocation Center.
Sassano, 54, was a an assistant at Penn High School for 12 years, coaching quarterbacks and running backs while at Penn. They won 4 state championships and were runner up twice. Most recently he was the head coach at LaSalle-Peru High School in Illinois from 2007-13, making the Illinois state playoffs three times. Sassano moved back to South Bend in 2014, where he works as a health insurance agent.
Sassano is a 1980 graduate of South Bend St. Joseph's High School, and attended the University of Notre Dame for two years before transferring to Illinois State University.
Filling out the SMAC schedule

With the departure of Benton Harbor from the SMAC Conference, the remaining league teams are busy trying to do something that no SMAC team has had to do since 2000, fill a football schedule. Since the formation of the then Big 16 in the 2001 season, every game has been scheduled by the league, but now with only 11 teams, there are 9 schools that will have to fill that blank on their schedule where Benton Harbor would be.
Week 1 - Gull Lake (at Battle Creek Harper Creek)
Week 2 - Battle Creek Lakeview (TBA)
Week 3 - Niles (at Goshen Fairfield, IN)
Week 4 - Portage Central (at Traverse City Central)
Week 5 - Kalamazoo Loy Norrix (at Bay City John Glenn)
Week 6 - St. Joseph (vs. University of Detroit Jesuit HS)
Week 7 - Lakeshore (at Birmingham Brother Rice)
Week 8 - Battle Creek Central (vs. St. John's)
Week 9 - Portage Northern (vs. Dewitt)
Benton Harbor was not scheduled to face Mattawan or Kalamazoo Central in 2016
Say Goodbye to McCamley.... (thank God!!!)


Recently the voters in the Portage Public School system were asked to approve a series of bond proposals, one of which would build new football stadiums not only at Portage Central, but Northern as well. Northern has played football at their rivals field since the school opened in 1965. In a few years, the tables will be turned for at least one season, maybe two, as the Huskies will have their own facility.
While Northern enjoys playing football at home for the first time in their history, it will leave Central to be the road warriors while McCamley Field at Portage Central will be demolished and recontstructed at the existing site. Northern's new football facility will be located where the current baseball field is. While nothing specific about the design of each stadium have been released. The site plans released by the Portage Public Schools show that the new field at Central will be flipped so the home fans and pressbox will no longer be facing the sun.
There is also no word on if the stadium at Central will retain the McCamley Field moniker. The timeline for contstruction has not been released but is expected by the first week of April. Major repairs are needed at McCamley Field and the stadium issues make it unlikely that the district can wait long to begin the work at the stadium at Northern.

Follow Up:
A recent conversation with Central High School coach Mick Enders revealed that Northern's stadium will begin contruction by this fall and will be complete by fall of 2017. Both schools will play their 2017 schedule at Northern's new stadium. An ironic twist to the situation is the Northern is scheduled to be the road team in the game against Central in 2017.
Turf at Lakeview??

Battle Creek Lakeview is holding a bond proposal for the May 2nd election. The 2nd of the two proposals would provide updates to the auditorium at Lakeview Middle School and would also allow the district to change the playing surface at Spartan Memorial Stadium from grass to syntheic turf as well as improvments to the track. The expected cost of the turf alone would cost approximately $1.3 million dollars. A poll done by the district voters show that 60% would vote no.
---
2015 Season
SMAC Update - July 28, 2015
Coach "U" resumes coaching career at Benton Harbor

Former St. Joe coach Elliot Uzelac's brief retirement is over as he accepted the position as head coach at Benton Harbor last week. Uzelac went 45-13 with St. Joe frorm 2006-2010. Uzelac signed a four year deal to help turn the Benton Harbor football program around, Uzelac is foregoing a salary for this season instead turning it over to his assistant coaches, including former Michigan Wolverine Jerry Diorio, and former St. Joe staffer Lyle Hayden, as well as former players Matt Mattox and Devonte' Jones. The Tigers will open the season at Gull Lake, where Uzelac won his first playoff game with St. Joe in 2006, when St. Joe won 14-0 in the first round of the playoffs. Uzelac will return to St. Joe as an opponent on October 2nd on the same night we commemerate the 100th season of St. Joe football.
Final season in the SMAC for Benton Harbor

The 2015-2016 school year marks the final season of Benton Harbor in the Southwest Michigan Athletic Conference (SMAC). A week before the hiring of Uzelac, the Benton Harbor Board of Education voted unanimously to leave the conference. New Athletic Director Fred Smith did not indicate which, if any, conference the Tigers might join. The two most likely choices, would be either the Wolverine Conference or the two year old BCS Conference. Benton Harbor will play this last season in the league. The SMAC will be down to 11 teams after Benton Harbor leaves.
Is Niles the next to go??

In an aritcle in the Niles Daily Star (Conference realignment on the horizon?, 7/27/15), author Scott Nowak reported that there are some that wish Niles would also exit the SMAC and join Benton Harbor and head to the Wolverine Conference. Citing a desire to resume the 100 year old rivalry football game with Dowagiac as the primary reason.
New Stadium for Portage Central.... and Northern???


At a recent Board of Eduction meeting for the Portage Public Schools, the board was presented with some options about some work to be done in the school system. The superitendent presented 5 different options, mostly dealing with work to be done at the middle schools or creating new middle schools. In all five of the options the question of new stadiums for each of the Portage High Schools were raised. Portage Northern and Portage Central play football at Portage Central's aging McCamley field which has some structural issues that need to be addressed going forward. The board spent over $75,000 in repairs to McCamley in the 2014 school year, but an unconfirmed report says that the building inspector in Portage has threatened to close the stadium if repairs aren't done.
These questions are what the board is considering to send to Portage voters for approval. In the options the stadium issue was separate from the school work in 4 of the 5 options. One of the following five Options will be sent to Portage Voters in the November elections.

1. A. Two New Middle Schools, work at West Middle, two pools, busses and technology and two new stadiums.
2. A. Two New Middle Schools, work at West Middle, two pools, busses and technology B. Two new stadiums.
3. A. Two New Middle Schools, work at West Middle, busses and technology B. two pools and two new stadiums.
4. A. Two New Middle Schools, work at West Middle, two pools, busses and technology B. Central Stadium. C. Northern Stadium
5. A. Two New Middle Schools, repurpose West Middle, two pools, busses and technology B. two new stadiums.
Former Gull Lake AD Cleared of Embezzlement Charges

Marc Throop was fired in February after Gull Lake found some financial irregularities in the athletic department. An investigation by the Kalamazoo County Sherriff's department was conducted into Throop. The County Prosecutor decided there was not enough evidence that a crime was committed and charges will not be filed. Throop was set to retire at the end of the 2014-15 school year anyways. He's served at Gull Lake's Athletic Director for more than 20 years.
SMAC Update - May 23, 2015
---
Changing classes
The 2015-16 MHSAA Enrollemnt figures have been released and it shows only one school will be changing classes. Lakeshore's one year run in Class A is over and the Lancers will be back in the second tier of Michigan high schools in terms of student enrollment. Kalamazoo Central replaces Loy Norrix as the largest school in the SMAC with Benton Harbor the smallest. Portage Norther overtakes rival Portage Central in enrollment for the first time in history of the two schools.
| School | Students | Class |
| --- | --- | --- |
| | 1,639 | A |
| | 1,580 | A |
| | 1,375 | A |
| | 1,351 | A |
| | 1,344 | A |
| | 1,175 | A |
| | 1,115 | A |
| | 1,050 | A |
| | 980 | A |
| | 908 | A |
| | 874 | B |
| | 631 | B |
New Stadium, New Look for Norrix Logo

One of the oldest stadiums in the league is getting a facelift, but really a rebuild. The crumbling concrete stands and breaking benches at Griffith Stadium at Kalamazoo Loy Norrix are now gone, making way for some brand new bleachers and a new concession stand, restroom, and ticket booth building. Plus the new Norrix stadium comes with an updated and more fierce looking Knight logo for the school. Southern Bleacher Co. of Graham Texas, will do the work on the stadium, at a cost of $477,645. The new stands are expected to be completed in time for the start of the 2015 season.
...still waiting on Benton Harbor

We've been all awaiting word about what was the "Big Surprise" at Benton Harbor in terms of their football program. Several reports and our own sources have revealed that former St. Joe coach Elliot Uzelac was going to become Benton Harbor's next head coach, but the move came with a few conditions, including a switch of leagues to the BCS Conference. However that move was put on hold after the school board voted to suspend the superintendent pending an internal investation that may be related to the coaching and conference choice.
Mattawan coach resigns, Brown named coach.

A civil rights complaint, a history of inappropriate and sexist comments proved too much for Mattawan head coach Matt Stephens to be able to overcome. Stephens stepped down as Mattawan's head coach after five seasons. Stephens compiled a 31-19 record with the Wildcats, leading them to three playoff appearances, a district title and a school record 10 win season. But some racist, sexist, and other inappropriate comments came to light during the 2014 season which prompted a civil right's complaint (LINK). Ryan Brown, who was Mattawan's defensive coordinator under Stephens has been named as the new head coach.
---
SMAC Update - April 26, 2015
...SFJB100

This year marks a special milestone in the history of the St. Joseph football program. The 2015 season is the 100th season in St. Joe football history. Not the 100th year, The program is actually older, but because some seasons were not held in the 1910's and 20's because of world events, this year marks the 100th season in the Bears program history.
We are looking for your help to celebrate the history of the program. We're looking for photos, articles, clippings, anything that marks the history of the football program.
If you have anything you'd be willing to share with us, please contact the football boosters at boosters@stjoefootball.com.
Plus during the game against Benton Harbor on October 2nd. We will be holding a special 100th season special.
We hope to see you at the game and we hope you have some history to share with us!!!
...Bergan out Porter in at Loy Norrix

Kalamazoo Loy Norrix will be under the direction of a new coach for the first time in seven years. Sean Bergan stepped down back in December. No official reason was given but Norrix AD Andwe Laboe told the Kalamazoo Gazette that he was sad to see Bergan go. The Bergan name does have some history in the area. Sean's brother Bill served as coach at Berrien Springs and his father Paul was once the head coach at Benton Harbor. Bergan compliled a record of 14-49 in his seven years as coach.
Taking over for Bergan will be current Parma Western Athletic Director (yes AD not coach) Jason Porter. Porter will finish the school year at Parma before coming over to Norrix. Porter is a native of Kalamazoo, he's a 1994 graduate of Kalamazoo Hackett. He's actually a resident of Vicksburg but has been communiting to Parma during his five years on staff.
Porter was a softball coach at Comstock and Kalamazoo Central. He has three years of head football coaching experience at LaVille and Prairie Heights, both in Indiana.
...still awaiting word at Benton Harbor

Benton Harbor has been without an official head coach since Darric Randolph had to step down prior to the 2014 season. Assistant Coaches Randy Jones and Mike Gillespie ran the Tigers program last year as Co-Interim Coaches. Benton Harbor finished 0-9 for a second straight season last year.
However we've found out that a "surpise" may be in store for the Tiger football program. Athletic Director Willie Wilson says they have their man, but a few details still need to be worked out. One of which includes work on a weight room facilty for the Tigers.
The "Big Reveal" is expected soon.
...Gull Lake AD fired for stealing funds

An article in the Kalamazoo Gazette shows that Gull Lake Athletic Director Marc Throop was fired back in February for taking athletic department funds. Gull Lake made the decision after financial irregularities were discovered in the athletic department finances.
Throop was let go after 20 years as Athletic Director and just three months short of his retirement. Documents show that Throop admitted to taking money from the gate cash box several times, including $200 from a basketball game on February 24th which he also admits to doing several times in the past.
The school hired a auditor to review the finances and were turning their findings over to law enforcement for any pending situations.
Gull Lake volleyball coach and Events Coordinator Karyn Furlong is serving as the interim AD until a decision is made on the position during the summer.
---
2014 Season
SMAC Update - August 9, 2014
...The Future's so bright, I've gotta wear shades.

Thanks in part to supermodel Kate Upton, Niles high school will be making some changes to the 1950's era football stadium to make watching the game a tad more easy. The lights at Viking Field in Niles are getting replaced. The original light fixtures put in during the 1950's are getting replaced, with the stadium losing four of the eight poles for the exisiting lights. Most importantly,the two light poles at the 40 yard lines on each side are being removed, leaving the field of view unobstructed from the stands. Kate Upton is the daughter of Niles athletic director Jeff Upton. She asked her father how she could help the athletic department, Upton along with Coca-Cola, and a grant from the Fredrick S. Upton Foundation provided the nearly $50,000 needed for the upgrades. The new lighting system will save on electricity, they will also be considerably brighter than the current incandescent bulbs. The light's will be delivered and installed will begin on Wednesday, August 13. St. Joseph will be able to see the new lights in action on October 10th when the Bears varsity visits Niles.
...Financial problems for BHAS; Last minute coaching change for Tigers

Times have been tough for the Benton Harbor school district for several years now. Declining enrollment, resulting in loss of state funding has added up to the Benton Harbor school district operating in a deficit since the end of the 2007 school year. The deficit has grown to $15 Million at the end of the 2013-14 school year. Recently a state appointed financial review team looked into the financial situation and determined that the district is in financial distress. The team has sent their findings to Michigan governor Rick Snyder, who is expected to announce that the school district is in a financial emergency, which would prompt state intervention. The district would have four options to try to get out of the deficit. Emergency Manager, Consent Agreement, Bankruptcy, or Neutral Evaluation Process. The school has stated that they will enter into the consent agreement.
That's all for the Tigers news off the field but there is a last minute and unfortate change for the Tigers Head Coaching position. Head Coach Darric Randolph will not be able to continue his turnaround plan for the Tigers. Randolph works outside of the school district and up until now, his schedule at work has allowed him to coach the Tiger football team. Changes in his schedule have put his coaching and job schedule into direct conflict and he can no longer serve as the Tigers head coach. The Tigers will go into the 2014 season with Co-Head Coaches as assistants Mike Gillespie and Randy Jones will direct the Tigers this season. Benton Harbor opens the season at home with Gull Lake. St. Joe will travel the short distance to Filstup Field again this season on October 3rd.
---
Around the Southwestern Michigan Athletic Conference - Offseason Edition
2014-15 Offseason Updates
SMAC Update - March 25, 2014
Gull Lake names new coach

The last coaching vacancy in the Southwest Michigan Athletic Conferenc has been filled as Gull Lake has hired Tim VanWormer as their new head coach. VanWormer, 41, spent the last season at his high school Alma Mater Houghton Lake, going 1-8 last season. Previous to that VanWormer spent four years as head coach at Frankenmuth High School, where he went 24-15, going 10-1 in his final season at Frankenmuth in 2012. VanWormer takes over from Tim Hiller who resigned after three seasons, going 8-19. VanWormer's home debut will be against St. Joseph in Week 2.
Changing classes
The MHSAA enrollment figures were recently and one SMAC school will be changing their classification, that's our neighbors south on Cleveland Avenue, Lakeshore. Lakeshore's enrollment actually dropped from 892 to 887, even so, the cutoff for Class A is 882 and above. St. Joe is still Class A, increasing from 986 to 1,028. The largest SMAC school is Kalamazoo Loy Norrix, who boast an enrollment of 1,612, 70 students more than rival Kalamazoo Central. The two smallest schools in the league are from Berrien County with Niles at 885 (Class A) and Benton Harbor at 634 (Class B).
| School | Students | Class |
| --- | --- | --- |
| Kalamazoo Loy Norrix | 1,612 | A |
| Kalamazoo Central | 1,542 | A |
| Portage Central | 1,384 | A |
| Portage Northern | 1,345 | A |
| Battle Creek Lakeview | 1,278 | A |
| Mattawan | 1,184 | A |
| Battle Creek Central | 1,124 | A |
| Gull Lake | 1,064 | A |
| St. Joseph | 1,028 | A |
| Lakeshore | 887 | A |
| Niles | 885 | A |
| Benton Harbor | 634 | B |
---
SMAC Update - March 14, 2014
...And then there were twelve.

The Big 16 is no more. In fact there's no more "Big" anything about this conference anymore. The conference has officially been known as the Southwest Michigan Athletic Conference, but has gone by the unofficial moniker "Big 16". Now with Battle Creek Harper Creek, Coldwater, Marshall and Sturgis leaving for other leagues, the remaining 12 schools are just going by the name "SMAC."
New coaches around the league
Two SMAC schools are undergoing changes at the top of their programs this offseason, most notably just to the south of us as Denny Dock announced his retirement at Lakeshore, our former assistant Bryan Keim has been given the nod as the Lancers new head coach. The other coaching change has not been resolved yet. Gull Lake head coach and former WMU quarterback Tim Hiller stepped down in his role with the Blue Devils. Gull Lake has not named a new head coach yet. St. Joe will be the second game for the new Blue Devils coach and first home game. St. Joe makes a return visit to Gull Lake for the first time since 2006.
---