---
Around the SMAC - News Updates
2023 Offseason
SMAC Update - March 3, 2023
Lakeview fills head coaching position

Battle Creek Lakeview has found the replacement for Jerry Diorio. Brett Vernon was named as the new head football coach for the Spartans. Vernon previously was the head coach at Homer high school. Homer is southeast of Battle Creek. Vernon spent five seasons at homer, leading them to the Division 7 playoffs in each of those 5 seasons. He is the co-coach for the Homer Wrestling team, which he will continue until the final trimester of the Homer school year. Vernon has spen 11 years on the staff at Homer before taking over as head coach. He graduated from Middleville Thornapple-Kellogg high school is 2002 and played college football at nearly Albion college, until his graduation in 2008.
Changes in Battle Creek Central's Athletic and coaching staff


Some mid school year changes are coming to Battle Creek Central's administration, and head football coach Lorin Granger has added the title of Athletic Director to his responsibilities for the Bearcats, at least temporarily. Charlies Siels stepped down mid year as the Athletic Director and school officials handed those responsibilites to Granger on an interim basis. Another change to the Battle Creek Central staff is the loss of longtime assistant coach Casey Bess. Bess not only was a player at Battle Creek Central, but he player under his father, former head coach Doug Bess. He spent 12 years as an assistant with the Bearcats. Bess is taking on the job as head coach at Canton High School between Ann Arbor and Detroit.
C.W. Post Field in Battle Creek to replace turf surface.


One of the first venues in the SMAC to install artificial turf will be replacing it. Battle Creek Central's CW Post Field was the first of two SMAC schools that installed turf in 2008 (Lakeshore was the other). But the extensive use and lack of field maintenace has left the field in bad shape. The field is hard and does not give like the newer artificial fields in the league. Manufacturers recommend that the actual carpet be replaced about every 10 years. Lakeshore which also installed turf in 2008, replaced their surface in 2019.
SMAC Update - December 1, 2022
Battle Creek Lakeview in search of new coach

The first coaching move in the league in two years is in Battle Creek where Lakeview's Jerry Diorio has stepped down after 5 seasons. He went 26-21 in his five seasons. With the most recent season of 2022 being the 2nd worst. The Spartans went 2-6, they only played 8 games because their game at River Rouge was cancelled because of a storm related power outage near Detroit.
Lakeview went 2-7 in his first season then they immediatedly flipped the script a year later completing a 9-0 regular season before falling in the distrct championship game. Diorio was an assistant coach at nearby Benton Harbor under former St. Joe coach Elliot Uzelac. Diorio also coached against St. Joseph in the 2008 playoffs while he was the coach at Wayland.
Diorio said he had plans on retiring before he had some health issues, including heart surgery early in 2022.
McCamley Field undergoes a slight name change.

The names of Bob Knight and McCamley Field are synonymous with Portage Central football. It only makes sense that finally it's one name. It was announced in November that the home field for the Portage Central football team McCamley Field will be slightly altered to add the name of longtime Mustangs head coach, Bob Knight.
After Knight's passing in 2021, a petition drive and a group sought for the renaming of the stadium in Knight's honor. The Portage school board kept the McCamley name in honor of former school board president Stuart McCamley who credited with growing the Portage school from it origins as a one room school to the large district it is today.
So the board renamed the field from McCamley Field to McCamley-Knight Field. And we couldn't be happier. St. Joe and Portage Central's long lasting rivalry also built up a friendship between Knight and former Bears Coach Ike Muhlenkamp.
2022 Offseason
SMAC Update - July 30, 2022
Did you see our new helmets

One of the most iconic football helmets in SMAC is getting an upgrade. The legendary Maize Bear Paw on the Blue helmet will still be there, but the bear paw now will bigger and include the St. Joseph logo. The players number will again be on the helmets as it'll now be on the front crown of the helmet.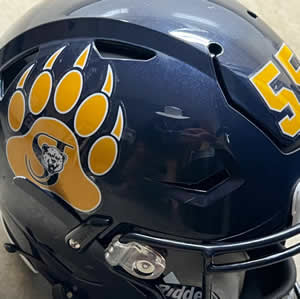 MHSAA Playoff Divisions announced for 2022 season

The MHSAA has determined the divisions that teams will be playing in during the 2022 season, which will determine the top 64 teams in each division that will make up the playoff field. Here are the SMAC Divisions
| School | Division | Enrollment |
| --- | --- | --- |
| Battle Creek Central | 2 | 1,223 |
| Battle Creek Lakeview | 2 | 1,339 |
| Gull Lake | 3 | 935 |
| Kalamazoo Central | 1 | 1,799 |
| Kalamazoo Loy Norrix | 1 | 1.743 |
| Lakeshore | 3 | 860 |
| Mattawan | 2 | 1,173 |
| Portage Central | 2 | 1,386 |
| Portage Northern | 2 | 1,271 |
| St. Joseph | 3 | 1,001 |
The SMAC is well represented in the Division 2 playoffs with half of the 10 SMAC schools being assigned to that Division. The SMAC's two largest schools Kalamazoo Central, and Loy Norrix are in Division 1. While the Division that St. Joseph occupies is once again Division 3, along with fellow SMAC schools Lakeshore and Gull Lake. Other area schoos in Divison 3 include, Plainwell (829), Harper Creek (863), Sturgis (920), Coldwater (960), Holland (961), Zeeland East (971), and Zeeland West (1,058).
Former SMAC members Niles (784) and Marshall (766) are Division 4, Division 5 Dowagiac (536), Benton Harbor (542).
New MHSAA Website coming

The MHSAA website is getting a much needed facelift, a new design off the official MHSAA website at www.mhsaa.com will be launched on Monday August 1. According to a post on the main page, "The goals for the new site are three-fold: 1) continue to tell the story of school sports, 2) make it easier for fans to find sport and Finals information, and 3) have a more user-friendly mobile experience. We also wanted to make sure there were very few changes in the way administrators and coaches use their current MyMHSAA tools."
Former SMAC member Niles upgrading Viking Stadium to include turf

While details of the project are difficult, if not impossible to find. A post by Leader Publications Sports Editor Scott Nowak shows construction crews at Viking Stadium in Niles, tearing up the grass surface of the nearly 70 year old stadium. A story this week is promise by Novak at www.leaderpub.com with hopefully more details on the project. It would be the 5th school in Berrien County to have an artificial playing surface. In addition to SMAC schools St. Joe and Lakeshore. The Lakeland's Berrien Springs, and New Buffalo from the SW Michigan 8 Man League are turf field. New Buffalo is called the Red Arrow Raiders for football as they are a Co-Op team with River Valley. Our Lady of the Lake (formerly Lake Michigan Catholic), is also an 8-man co-op team with Michigan Lutheran and Countryside Academy, they play their games at the Lakeshore rocket football field, which is also artificial turf. While Niles is no longer in the SMAC, we still wish them well as they along with St. Joe were founding members of the SMAC.

SMAC Update - July 16, 2022


Other SMAC Stadiums get some work.


Summer is constuction season on the roads and in the stadiums of the SMAC in preparation for the upcoming season. In addition to the work being done at Dickinson, two other SMAC schools have had a few facelifts done or are in the process. The first is down the street at Lakeshore, where the have replaced their scorboard at Al Stockman Stadium. Like St. Joe and Mattawan, they have installed a Daktronics scoreboard with a video board installed. The video board is 560 pixels wide by 308 pixels high. It is on top of a modular regular Daktronics football scorebaord, The numbers are all white LED's. Not football related but Lakeshore has also installed video boards in their gymnasium. Photos can be seen on their twitter page.

Battle Creek Lakeview's Spartan Memorial Stadium is having a lot more work done. Voters in the Lakeview School District passed a bond in 2021 for upgrades to the football stadium and track. The second major rennovation to the stadium since the Spartans rejoined the SMAC in 2001. New stands were constructed in 2005, which actually reversed the stands. But in 2022, Spartan Memorial Stadium will have a new artificial turf field. Lakeview is also installing a new scoreboard. And drawings provided by Lakeview show that it is an exact copy of what Lakeshore has installed. (LINK) It appears to be another Daktronics scoreboard. Which would make of the 10 current SMAC Schools (Loy Norrix and Gull Lake included), seven would be by Daktronics. It would also be the be the 6th with a video screen of some kind. The renderings show that the field is lined for football, soccer and lacrosse. Again including Gull Lake and Loy Norrix in the count, the changeover to artificial turf means that only 3 schools in the SMAC still have grass football fields. Mattawan, Kalamazoo Central, Kalamazoo Loy Norrix. For the upcoming season, St. Joe will only play 1 game on natual grass.
Gull Lake coming back for football???

Two SMAC schools currently do not play football in the conference, those are Kalamazoo Loy Norrix and Gull Lake, however one of them could come back in a few years. Gull Lake, stepped out of the league after the 2020 football season to play an independant schedule as the Blue Devils sought to build back their struggling football team. Reports say that the Blue Devils might return for the 2024 season. The SMAC has a new schedule format starting with this upcoming 2022 season and after the two year cycle ends, Gull Lake is considering a return to conference play. That would cause a bit of a problem for SMAC schools who would have to find a non conference game. There's no word on if Loy Norrix is also considering a return, but the Knights left after the 2019 season after back to back 1-8 seasons.
Benton Harbor has a new conference

Even though Benton Harbor left the SMAC after the 2015 season, we're happy to see the Tigers finally find an athletic conference to compete in. The Tigers will be joining up with Berrien Springs, Brandywine and former SMAC members Buchanan and Dowagiac and forming a new Lakeland Conference. Originally named the Big 8 Conference and eventually the Blossomland Conference, the original Lakeland Conference folded after the 2013-14 school year. Current SMAC member Lakeshore was part of the Lakeland since 1958. When Benton Harbor faces Berrien Springs on September 23, it'll be the first Tigers conference football game since at 29-23 win over Portage Northern on October 23, 2015.
St. Joe Youth Sports Foundation gets approval from SJ Township planning commission

This one really hits home for us and we would love to see this project continue to move forward. The St. Joseph Youth Sports Foundation has the approval from the St. Joseph Township planning commission for the plan for a new youth sports complex to be located along Maiden Lane in the township across from the Spectrum Health Lakeland health park. The park would include a game size football field, a football practice field, 3 flag football field, two baseball and two softball fields, as well as batting cages, locker rooms, medical rooms, restrooms, a concession stand, as well as a splash pad, playground, and a walking trail. The full plan has not yet been approved by the full St. Joseph township board. Currently the Foundation has raised $1 Million of the $5 million needed for the proposal. You can get more informatin and donate at http://sjyouthsports.com/
SMAC Update - June 18, 2022
Dickinson Stadium gettiing some minor work

It's been a relatively quiet offseason in terms of the SMAC football in general, Dickinson Stadium here in St. Joe is getting some minor repairs done and a few upgrades. The Board of Education has approved a bid to have some minor repairs as well as waterproofing done around the stadium. Meanwhile the football teams' locker room will be getting some minor renovation work done as well.
Battle Creek Central football gets donation of $45,000 and new helmets from the Detroit Lions

Battle Creek Central was one of the first schools in the SMAC (then Big 16) to get an artifical turf field. It was done via a donation, but like many other things, whle the field was great, the equipment was aging. The Detroit Lions, the United Dairy Institute of Michigan, and Riddell made the donation. The team was informed of the donatioin via a Zoom call with Detroit Lions OL Frank Ragnow. The Lions are donating $43,000 as part of the Touchdown in your Town Program, the UDIM is donating $2,000 of chocolate milk, and Riddell is making the donation of new helmets and shoulder pads.
Former Mattawan football coach posthumously inducted into MHSFCA Hall of Fame.

Dave Lawrence began his coaching career in 1979. Of his five stops along the way he was a coach at Mattawan. Lawrence passed away in 2020, but the Michigan High School Football Coaches Association will be inducting him into their hall of fame this year.
New SMAC schedule format

With Gull Lake and Loy Norrix continued abscence from the SMAC for football, the league has realigned itself again to allow a more even and managable schedule format, which ends the scheduling partnership between the SMAC and the CAAC-Blue. The first two weeks of the season will be the two non conference games, then the last 7 games will be the SMAC schedule.

St. Joseph
8/26 vs. Traverse City Central (at FSU)
9/1 Hudsonville Unity Christian
Lakeshore
8/25 Zeeland West
9/1 at Kalamazoo United
Mattawan
8/25 Lowell
9/1 at Marshall
Portage Central
8/25 at East Lansing
9/1 GR Forest Hills Central
Battle Creek Lakeview
8/25 Harper Creek
9/1 at River Rouge
Portage Northern
8/25 Vicksburg
9/1 at Holland West Ottawa
Battle Creek Central
8/26 Byron Center
9/1 at Harper Creek
Kalamazoo Central
8/25 at Mount Pleasant
9/1 at Kalamazoo Loy Norrix

2021 Season
SMAC Update - October 31, 2021
Legendary Portage Central coach Bob Knight passes

A SMAC coaching legend has passed away, longtime Portage Central head coach and then assistant Bob Knight has passed away. Knight directed the Mustangs program from 1971-2004, when St. Joe and Portage Central commonly were in contention for the then Big 8 Conference title. While at the same time developiing a friendship with legendary St. Joe coach Ike Muhlenkamp. Knight passed after a battle with terminal brain cancer. A petition drive was started by two former Portage Central players to rename the new McCamley Field in honor of Knight. The petition, at the time of this posting had just short of it's goal of 2500. That petition is here.
---